Ahmedabad has a very unique quality of turning any cuisine from any part of the world into the most wanted dish of the town. For instance, have ever heard of Chinese flavoured Jini Roll Dosa or Spring Dosa or Idlies fried in Chinese sauces? No right! But we Amdavadi's have a special skill set of mixing and matching any food item from any part of the world and customizing it according to the local needs. Apparently, for anyone who gets adapted to Ahmedabad taste, even South Indian dishes taste better in Ahmedabad rather than South India itself! So don't you think this makes trying "Amdavadi" South Indian Restaurants much more important than any other task of the world? List of the most famous South Indian Restaurants in Ahmedabad that help you out in fulfilling your bucket list item.
---
Below are the most famous South Indian Restaurants in Ahmedabad that help you out in fulfilling your bucket list item:
---
1)Sankalp, S.G. Highway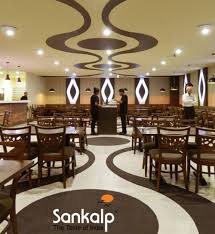 One of the most famous South Indian restaurant outlets not only in Ahmedabad but all over India, Sankalp offers the yummiest South Indian cuisine on this earth. Whatever dish it for example idli, dosa, or even simple uttapam, Sankalp has added a special taste to all of them. Apart from the fact that even paper dosa of Sankalp tastes different than that of other South Indian restaurants, what lures the customers towards the outlet is its 4 differently flavoured delicious complimentary chutneys which include: garlic, coconut, green chutney and tomato.
You might forget the taste of dosas in this restaurant but you will never forget the rich essence of these flavoured chutneys. Moreover, the famous 4 feet dosa of Sankalp is an eye-opening item that is a must-try. There is absolutely no question about the taste and quality of the South Indian restaurant. Recommended dishes of this brilliant South Indian outlet include Karamura Dosa, Mysore Masala Dosa and Dahi Vada.
Address: Plot No.3, Sankalp House, Near Rajpath club, Sarkhej – Gandhinagar Hwy, Ahmedabad, Gujarat 380052
---
FUN FACT: Even the world's most famous south Indian restaurant franchise Sankalp originated in Ahmedabad in 1980 and is rated as the best south Indian restaurant in almost every city. It has also featured the Guinness book of the world record for cooking the longest dosa of 53-ft in 2013!
---
2)Dakshinayan, Navrangpura
Dakshinayan is a complete epitome of a typical South Indian restaurant. Famous for its rich taste and authentic serving, the South Indian restaurant is a perfect match for food hunters in Ahmedabad. Offering 100% vegetarian food, the restaurant has been able to grab a large market and has become famous in Ahmedabad. Moreover, its consistency in maintaining rich flavour is what makes the restaurant stand out from the rest of the restaurants. Above all, Dakshinayan has also been successful in maintaining authenticity in its menu with original south Indian Nomenclature. For instance, Molgapodi idlis, Uthappam, and Chettinad Maligu Dosai are a must-try famous South Indian dishes in the restaurant.
Address: Shop no. 4, Abc 2 Complex, NR XAVIER'S College Corner, Off C G Road, Navrangpura, Ahmedabad, Gujarat 380009
---
3)Radhika's – Authentic South Indian Food, Drive in Road
As and when one even thinks about this South Indian restaurant in Ahmedabad, his mouth starts to water so hard. There is actually nothing more to describe the restaurant than what all the title of the restaurant suggests. This South Indian fast food centre of Ahmedabad serves the most hygienic and the yummiest varieties of dosas in the whole town. With great ambience and reasonable price, Radhika's has apparently become one of the most loved food outlets in Ahmedabad. Moreover, it has a very cosy and cool ambience which caters to the comfort need of the customers. South Indian items like Hariyali dosa, Paniyaram and Tirnga dosa definitely deserve a trial either by hook or crook!
Address: First Floor, Panchali Complex, Drive In Rd, opposite Asia School, Ahmedabad, Gujarat 380054
---
4)Dravida, S.G. Highway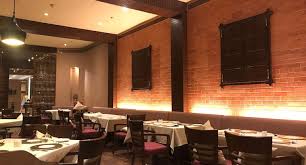 If you want to visit a mini South India in Ahmedabad, forget everything and head towards Dravida. The restaurant set it aside from all other outlets in a number of ways. Firstly, all the waiters are dressed up in typical South Indian dressing with Dhotees and Kurtas. Secondly, the interiors of the whole outlets include antique pieces and portraits relating to the South Indian theme along with soothing South Indian Music. Thirdly, it not only offers vegetarian dishes but even amazing non-veg items that will make you lick your finger. But what makes the restaurant so famous in Ahmedabad is its rich and unique taste.
South Indian items like Kudotho Saru or Nadan Kozhi Curry are highly recommended for those who love exploring unique and different tastes. Having Khubani ka Meetha as dessert is a must-try too. The restaurant is actually different and you will feel the difference once you enter the premises!
Address: The Fern An Ecotel Hotel Ahmedabad Near Sola Overbridge, Sarkhej – Gandhinagar Hwy, Ahmedabad, Gujarat 380054
---
5)Kovallam, C.G. Road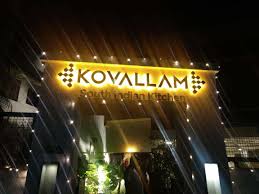 One of the most aesthetically pleasing South Indian themed Restaurants, Kovallam is located at a prime location in Ahmedabad. Named after a real south Indian city, Kovallam restaurant is stupendous in terms of its taste and quality. It gives you a very soothing vibe as soon as you enter the premises due to multiple reasons. Firstly, it has a very fancy seating arrangement which makes it a great place for family brunches or breakfasts. Secondly, it has also become this famous because of its ability to maintain the richness of South Indian flavour more than the competitors. Even though it is situated inside a bungalow, its open sitting space gives a charming aura to the place. Some of the most famous dishes of the restaurant include ghee Podi Dosa, Mixed Veg Uthappam, Schezwan Idli and Masala Boondi.
Address: Opp Sardar Sewa Samaj Hall, Chimanlal Girdharlal Rd, nr. Induben Khakhrawala, Ahmedabad, Gujarat 380006
---
---
6)Gwalia Vannakam, Prahlad Nagar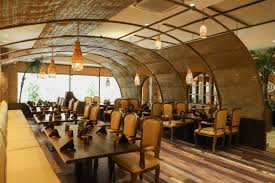 Gwalia Vannakam is another famous South Indian restaurant in Ahmedabad. Famous for its eye-opening and royal indoor designing, the restaurant offers great food. With the spacious ambience and quick service, the restaurant offers an extremely innovative menu card with amazing visuals. Once you enter the restaurant you can feel the status and class in the air along with the delicious odours of some savouring South Indian dishes. Moreover, the walls, tables, lighting etc are so well designed according to the south Indian theme that it makes you come back to the place again and again. Its antique showpieces and paintings are a great attraction for the customers in Ahmedabad. Above all the restaurant offers great South Indian food in terms of both taste and quality. Some famous dishes of the restaurant include Schezwan Pepper Masala Dosa, Chilli Paneer Dosa and Onion Raagi Dosa.
Address: 109 Venus Atlantis, near shell petrol pump, Prahlad Nagar, Ahmedabad, Gujarat 380015
---
7)Dosawala, Sola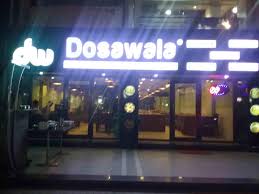 An amazing snack bar of Ahmedabad, Dosawala not only serves finger-licking South Indian Cuisine but even a variety of street food dishes. However huge restaurants you visit, how much ever price you pay for Dosas in big restaurants, a true North Indian food lover will always head towards the street to get the yummiest food ever. Dosawala offers such nice varieties of dosas that even a real South Indian will not be able to recall his own original hometown taste. Just try any of its "Fancy Dosas" and you will not stop licking your fingers for hours. Its quality lies in the fact that it offers a variety of categories of dosas for various kinds of sectors of customers.
Ranging from Classic dosas to Kids special dosas to Sada dosas, Dosawala has it all. Some famous recommendation for the South Indian restaurant includes Cheese Jini Roll, Bombay Special and Hariyali Masala Dosa. It's a diehard request not to leave without test any of these recommendations. You can even have other fast food like Bhaji Pav, Chola Bhature, Sandwich etc at this place and there will no compromise for the taste for sure.
Address: Savan mall, Sola, Ahmedabad, Gujarat 380060
---
8)Dasaprakash, S. G. Highway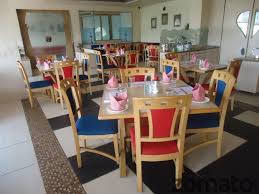 If there's one place in Ahmedabad which serves sensational South Indian food, it is Dasaprakash. Sometimes considered even better than Sankalp, Dasaprakash offers authentic South Indian cuisine in a typical serving style. Its cooking style and preparation techniques definitely set it out from all other south Indian food outlets in Ahmedabad. The ambience, taste of the food, hygiene and service are all really well maintained. It is rare to find a south Indian joint that serves sundaes but this restaurant definitely offers them in the most unique way.
Dishes like thali, guliyappam, idli, dosa are fabulously unique and mouthwatering. The service is friendly, warm and perfect. Dasaprakash is a place that soothes your taste-buds and hardly disturbs your purse. Deserts like Gold Rush (Chocolate and Coffee ice cream with butterscotch and chocolate fudge and caramel) and the Coit Tower (Mango and Vanilla ice cream with the same flavoured fudge) are also a must-try here.
Address: Sarkhej – Gandhinagar Hwy, Bodakdev, Ahmedabad, Gujarat 380059
---
9)South Leaf, Prahlad Nagar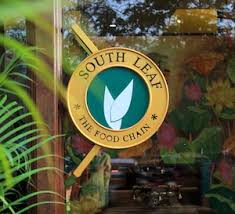 South Leaf can be considered as a slightly modern form of South Indian restaurant than other food outlets of Ahmedabad. With a number of fusion dishes on its menu card, the restaurant offers great food and rich flavours in every South Indian food item it offers. famous for its easy and comfortable ambience, South leaf is a really cool place to visit with your family and friends. From using authentic spices to giving high-quality flavours, the south Indian restaurant does it all. Its fabulous menu will straight away hit your taste buds and make you want to try more and more of it. For instance, trying Peri Peri Cheese Dosa, Butter Bhajipav Dosa and Cheese Garlic Butter Masala Dosa will be an amazing experience itself.
Address: Shapath IV, G5, Prahlad Nagar, Ahmedabad, Gujarat 380015
---
10)Chula Dosa Hub, Shahibaug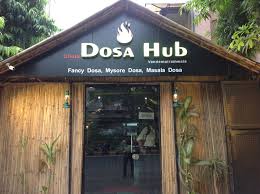 Chula Dosa Hub as the name suggests is a hub of a variety of South Indian dosas in Ahmedabad. Cooking dosas on real Chula and maintaining great taste has increased the reach of the restaurant incredibly. It is an amazing eating point located in a very quiet place With a Superb ambience, a light, colourful, cosy feel, Chula Dosa is a must-try if you happen to be in the city of Ahmedabad. Also, don't forget to grab some famous food items of the place which include cheese paneer masala dosa, chatpati chutney paper dosa and onion magic paper dosa before you leave.
Address: 1, Dr Ambedkar Rd, Jain Colony, Shahibaug, Ahmedabad, Gujarat 380004
---
11)Mysore Express, Nikol
Located on the outskirts of the city, Mysore Express is also a famous South Indian fast food outlet in Ahmedabad. Comparatively smaller but another famous street food offerer, Mysore express has also been able to establish its supremacy in terms of yummy dosas and Idli Sambhar. However, along with taste and experience, the pricing of the food items are also reasonable here. The South Indian restaurant is mostly suited for that population of Ahmedabad which moves out of the house for Nasto after having dinner. Dishes like tomato-onion mix uttapam and masala dosa are a must-try here.
Address: 12, Dmart Road, devashya avenue, opp. Dmart, Nikol, Ahmedabad, Gujarat 382350
---
All these South Indian outlets are no doubt one of the most famous South Indian food makers of Ahmedabad, but what makes the city stand out from the rest of the parts of the country is its amazing street style south Indian cuisine. Areas like IIM Road or Manek chowk or any other food stall areas, offer one the most unique varieties of food items you will definitely want to taste. So don't just wander from one famous South Indian restaurant to other famous south Indian Restaurant in Ahmedabad in search of food, but give a hand for its amazing street fast food stalls too. Bon Appetit! 😉
---
---
Related posts