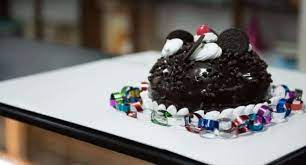 Bakery items have been famous in Ahmedabad for years. With a number of varieties, Bakeries in Ahmedabad not only specialize in exotic cookies, cakes, biscuits bread etc, but they also function as cafés, serving coffee and tea to customers who wish to consume baked goods on the premises. All these famous bakeries serve appetizing varieties and definitely deserve a visit to Ahmedabad. So what are you waiting for, have a look at the list of most famous bakeries in Ahmedabad and get ready to have an elite experience at each of these places?
---
LIST OF 20 BEST BAKERIES IN AHMEDABAD TO SATISFY YOUR TASTEBUDS:
---
1)TGB Cafe and Bakery, Science City
One of the most famous bakery in Ahmedabad, The Grand Bhagwati bakery outlets are spread all over the city. Its reasonable taste and mouthwatering cakes and pastries just cannot be missed at any cost! Moreover, the bakery not only excels in terms of quality and hygiene but even serves so many varieties. Also, its huge ranges of bread can make your mouth water with craving. From pizza bases to garlic bread, TGB serves whatnot. Even the cakes here are soft, creamy and delicious. Apart from regular bakery items, TGB also serves light snacks and amazing coffee which makes it more convenient for people looking for a casual hangout.
Address: GF 2/1, Saptak House, Science City Rd, Science City, Sola, Ahmedabad, Gujarat 380060
---
2)Oven Magick, Bodakdev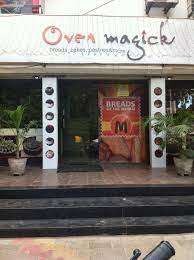 Another fabulous bakery in Ahmedabad, Oven Magick is supreme in its quality and flavour. Famous for its authenticity, its numerous varieties of bread offer you the most mind-blowing flavour that you might not have tasted in a long time. Its huge variety of cakes are divided into four sections namely- Premium cakes, Cheesecakes, speciality cakes and premium chocolate cake. Apart from this, you can also get access to various cookies and other basic bakery items at oven magic. There no other bakery in Ahmedabad which is as good as oven magic.
Address: GF 26 Rudra Square, Judges Bungalow Cross Rd, near Gormoh Hotel, Bodakdev, Ahmedabad, Gujarat 380054
---
3)Uppercrust, Vastrapur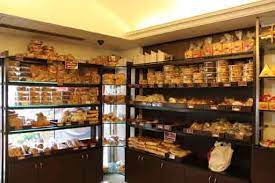 Uppercrust is one more interesting bakery in Ahmedabad, famous for its cakes. Its deserts and bread make you go wonders in terms of taste and creative servings. From doughnuts to delicious fast food, Uppercrust is extremely famous among the folks of Ahmedabad. With some of the best brownies in Ahmedabad, the bakery has literally broken records in offering authentic bakery items in their purest forms. With a good collection of comfort food, a casual dining area and friendly staff, Uppercrust has all that a customer expects from a basic bakeries.
Address: Shop No. 5-6, Shubham Complex, Sargam Marg Sunrise Park Corner, Opp. Sanjivani Hospital, Vastrapur, Ahmedabad, Gujarat 380054
---
4)Chocolate Room, Ambawadi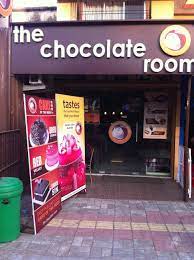 This unique bakery in Ahmedabad is the most famous place for teenagers to hang out. Majorly based on the concept of serving chocolate dishes, chocolate rooms even serves amazing fast food like pasta and pizzas. Located at multiple spots in Ahmedabad, the place offers cakes, desserts, shakes and whatnot. Even the doughnuts of the place are among the best all over Ahmedabad. Chocolate also has a collaboration with the famous Crossword outlets so that you can enhance your reading skills and grab some tasty snacks at the same time. Don't forget to try its thick Italian hot chocolate before you leave the restaurant.
Address: 22-2 A, L Colony, Next To Havmore Restaurant, Nehru Nagar, 120 Feet Ring Rd, Opposite Sahajanand College, Ambawadi, Ahmedabad, Gujarat 380015
---
5)Dangee Dums, Ghatlodiya
Looking for birthday cakes? Dangee Dums will always be there near you. Another famous bakery of Ahmedabad, the pastries and mini cupcakes are the most unique items that you will have hear. With its multiple outlets all over the city, dangee dums menu is so vast and interesting that your curiosity will never die of tasting new things here. From cakes to shakes to beverages to mindboggling chocolate items, dangee dums is A1 in its quality and variety. Starting from its small cupcakes till its eye opening Rainbow cake, there is nothing that can beat dangee dums competition in Ahmedabad.
Address: F-11, APM Shopping Mall Opp Sun – Step Club, Satadhar Cross Road, Sola Rd, Sarvodaya Nagar, Ghatlodiya, Ahmedabad, Gujarat 380061
---
6)Kabhi B, Navrangpura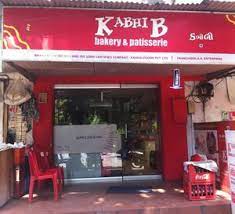 Similar to TGB, Kabhi B is also famous for its baked snacks and biscuits. The cafe cum bakery is a small place to spend time with your close ones. The bakery is also famous for its varied bread having available in different flavours, types, sizes and what bot. Even the cookies of Kabhi B a trend during major festive seasons where people exchange them as gifts. Moreover, the place is also great at offering reasonable cakes available in different sizes and flavour. Its multiple outlets in Ahmedabad also make it convenient for the customer to get easy access to its items.
Address: Sharanya Avenue, Nr, HDFC Bank, Nr, Darpan Six Rd, Navrangpura, Ahmedabad, Gujarat 380013
---
7)Baker's Den, Panjara Pol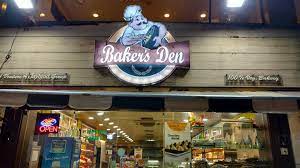 As the same suggests, Baker's Den is the perfect bakery serving perfect items in Ahmedabad. The famous bakery serves desserts, sweets, fast food and everything you expect from a little dine out place. It even offers Indian snacks like Pav Bhaji and or ladoos to attract a vast variety of customer. Even after making such distinct dishes available at the same place, the bakery maintains amazing quality in its pastries and puddings. The most famous items of the bakery include Butter Khari, Butterscotch cakes and Chocolate babla.
Address: Shivalik Plaza, 7, IIM Rd, opposite AMA, Panjara Pol, Ambawadi, Ahmedabad, Gujarat 380015
---
8)VANILLA The bakery and Cafe, Vastrapur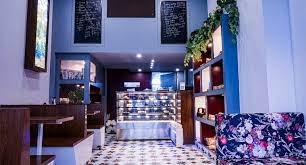 As the name suggests, Vanilla is an amazing combination of both bakery and cafe. The best bakery in Ahmedabad not only serves mouthwatering desserts and cakes but also offers some of the most delicious food in the city. From normal cupcakes to heavy pasta and sandwiches, Vanilla offers a perfect package to its customer. Even the ambience of the bakery is so trendy and sweet that you might want to visit it again and again. Above all, its menu is varied to such a great extent that you will never leave the place with an empty stomach. Sweet savoury, brunch, drink, Vanilla is loaded with food items to quench your craving for something interesting.
Address: 15, Galaxy Bazaar, Himalaya Mall, Vastrapur, Ahmedabad, Gujarat 380054
---
9)Indu, Drive in road
When you suddenly have a deep craving for pies, cupcake, chocolates and pastries in Ahmedabad, always remember, Indulgence bakery is the mantra! Ran by 2 sisters, Indulgence has a very cosy and soothing ambience with a cute interior that makes you want to spend time here more and more. It's an extremely classy and rich bakery famous for its blueberry cheesecakes, Ferrero Roche pie and mini cake pops. Apart from this, Indulgence is also an amazing place to have finger-licking fast food like samosas, salads, pasta and what not which makes it the most elite bakery in Ahmedabad.
Address: 26-27, Galaxy Bazaar, Sunrise park lane off drive in road, Vastrapur, Ahmedabad-380052
---
10)Cakes and Bakes, Ghatlodiya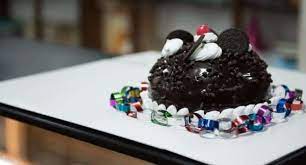 Cakes and Bakes as the name suggests is a famous Bakery serving a variety of cakes in Ahmedabad. With its reasonable costs and satisfactory dining are, the bakery serves a number of bread and biscuits. Apart from its fabulous cakes, you can also have good fast food at the bakery like Chinese, Pizzas, Aloo Tikki etc. Although the bakery is not a complete cafe that serves you a complete meal, it fulfils all the basic expectations of a customer towards a bakery. With the essence of home-cooked feeling, cakes and bakes and be a good option for exploring new bakeries in Ahmedabad.
Address: Arjun Apartment, H/52, nr. karmachari school, CP Nagar 2, Ghatlodiya, Ahmedabad, Gujarat 380061
Read More: Best Sweet Shops in Ahmedabad
---
11)Ombre, Usmanpura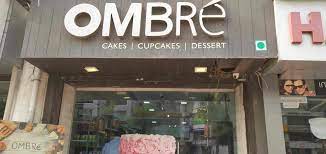 With over 5 branches in Ahmedabad, Ombre serves one the most delicious cakes, confectionary and deserts in the city. Its varied menu and mind-blowing serving style have made it gain huge popularity among the folks of Ahmedabad. The cakes which Ombre offers are not just meant for birthday and special occasions, but they also deserve a trial casually. You can have focaccias, bagels, cupcakes and everything that is unique and classy. Moreover, the serving and making of these little cupcakes are so creative, that there will be no end to your curiosity once you have a look at them.
Address: Navjeevan Marg, Sattar Taluka Society, Usmanpura, Ahmedabad, Gujarat 380014
---
12)Le Artisan Boulangerie, Thaltej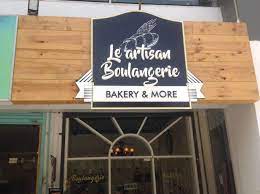 Le Artisan Boulangerie is one of the most aesthetic bakeries in Ahmedabad famous for its unique bakery items. The bakery cum café serves both continental and Italian items along with some succulent beverages. With flowers all over the place and beautiful curtain, it is really a mesmerizing experience to visit Le artisan boulangerie. Even the menu of the bakery is so creative and pretty that it literally gives you the essence of a typical European shop. Risottos, croissants sandwiches salad, Le artisan boulangerie offers every elite dish you would love to have.
Address: Ground Floor, Magnifico Opposite, Maple County Rd, Ahmedabad, Gujarat 380054
---
13)Little French House, Navrangpura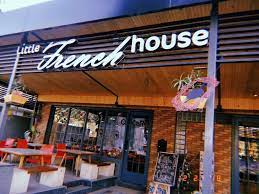 Popularly considered a cafe, Little French House is literally a small French bakery in the centre of the city. With a number of cakes bread and pastries, the place even offers amazing varieties of cheese to have. Its interiors are so mesmerizing that even one visit here will make your day. Apart from the bakery items, Little French house is also famous for its delicious food ranging from continental to French to Italian etc. with some amazing desserts and beverages. Don't forget to try its famous dishes like farmer's tear and share bread and Arancini balls before you leave.
Address: opposite Nidhi Hospital, near stadium Circle, Navrangpura, Ahmedabad, Gujarat 380009
---
14)MOI- The Dessert Studio, Bodakdev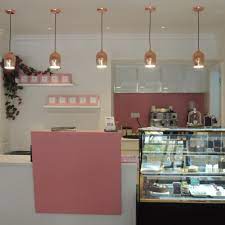 As the name suggests, MOI is a wonderful dessert studio in Ahmedabad that offers superb desserts and dishes. The newly opened place is an interesting spot to visit and its pretty interiors also gives a very cosy experience. Moreover, MOI also offers such eye-opening cake varieties that it will become your first priority to order your birthday cake from here. Some of the most famous items of the bakery include Hazelnut Praline and New York Cheesecake.
Address: Satkar Appartement Sambhav Press Rd, Near, Judges Bungalow Cross Rd, Bodakdev, Ahmedabad, Gujarat 380054
---
15)7 VIOLETTES, Vijay Cross Rd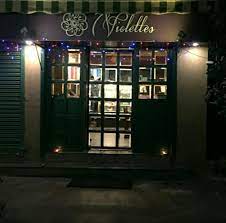 If you are thinking to have the best macaroons and deserts in Ahmedabad, right away head towards 7 Violettes bakery without any second thoughts. From pullout cakes to rainbow cakes, the bakery provides every variety of cake that you long for. Even the ambience of 7 Violettes is so spacious and comfortable, that customer just cannot ignore the bakery. Some of the most famous items of the place include Hazelnut Brownie, Chocolate Strawberry Cake and Silken chocolate mud pie.
Address: A2, Vishal Apartments, Next to Neelam Lutf restaurant, Off Close to University Road, Vijay Cross Rd, Ahmedabad, Gujarat 380009
---
16)Biskut, Bodakdev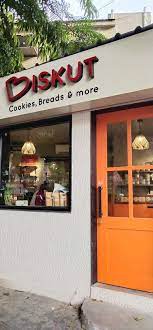 With such a unique name, Biskut a typical bakery in Ahmedabad serving authentic bakery items. From breads to cookies to biscuits, Biskut serves them all. You just have to taste its brownies and there would be no other place in Ahmedabad that could beat Biskut's competition. With its trendy ambience and varied menu, Biskut is a nice place to hang out and grab some snacks and mouthwatering deserts. Items like Cinnamon Roll and pistachio baklava muffin will really make your day once you have it.
Address: Judges Bungalow Road Opp. Akash Towers, next to Dipali Shah Couture, Bodakdev, Ahmedabad, Gujarat 380054
---
17)Baked by Nini's, Bodakdev
Baked by Nini is a small little bakery in Ahmedabad that servers amazing items. Its cakes and pasteries are so pretty and aesthetic that you just cannot miss having them. Baked by Nini is yet another most famous bakery in Ahmedabad that has grabbed a really good reputation amongst the local folks. The take-away only bakery has very fresh varieties of breads, cookies, desserts and jar cakes. Famous items like Nutella cheesecake and chocolate Praline cake are a must try here!
Address: 8, Devpreet Complex, Satya Marg, Bodakdev, Ahmedabad, Gujarat 380054
---
18)Buttercupp, Bodakdev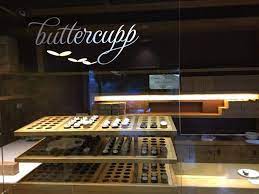 Famous for its mouthwatering cupcakes and deserts, Buttercupp is one in a million. The place is beautifully designed to have some rich authentic flavors of cupcakes in Ahmedabad. Its brownies, Bundt cakes cookies everything look so aesthetic, that you might never want to leave the place without trying something unique. Starting from a 10 rupee cookie to huge finger licking pies, Buttercupp is the cutest and the sweetest bakery of Ahmedabad. Some of its most famous items include banana bread, Choco vanilla and Belgium chocolate.
Address: Shop No. 4, Advait Complex, Sandesh Press Road, Beside Sandesh Press, Bodakdev, Ahmedabad, Gujarat 380054
---
19)Cocoa Drama, Vastrapur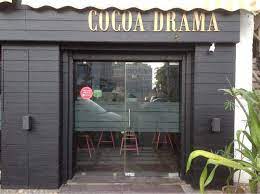 Cocoa drama is another aesthetic place in Ahmedabad to have eye opening bakery items. The cafe cum bakery is the best place to have delicious cupcakes. Its cute ambience and heavenly menu card is all that a person might want to experience in a small get together or on a date. With one of the most famous Macaroons and cheese cakes in Ahmedabad, Cocoa Drama is a must visit bakery. Its fruity deserts and succulent beverages are too pretty to be eaten.
Address: Vastrapur Rd, Sunrise Park, Vastrapur, Ahmedabad, Gujarat 380015
---
20)Karachi Bakery, Prahladnagar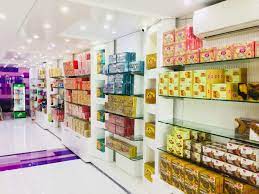 Originally a started in Hyderabad, Karachi bakery is not only famous in Ahmedabad but all over India. The recently opened bakery offers the most authentic and the most unique varieties of biscuits and cookies that you might not have ever thought of. Its elite reputation all over the country already promises the best quality and variety of biscuits that you would like to have. With 50 types of biscuits and cookies, there no other place you can think of if you are searching for a new and special taste.
Address: 19 & 20-F, Campus Corner 1, Near Prahladnagar Garden, Opp. BATA, Prahlad Nagar, Satellite, Ahmedabad, Gujarat 380015
---
Finding a good bakery in is not that difficult in Ahmedabad. There are so many bakeries here that you just have to decide what you want to have and visit the place accordingly. Since every bakery specializes in at least one item, visiting bakery in Ahmedabad has become very interesting. So what are you waiting for have some amazing macaroons, cookies, biscuits, cakes etc at all of the listed bakeries and enjoy your summer. Bon appetite 😉
---
---
Related posts