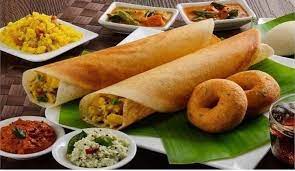 ---
Here are some worthy to visit south Indian restaurants, where you can connect with real South India and enjoy real south Indian food:
---
1)22nd Parallel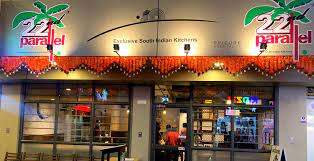 One of the finest and most authentic South Indian Restaurant chain in Vadodara? Well 22nd parallel is here. Have you heard of south Indian starter to desert menu? If not, then here is the perfect place for you. You can have Rasam in place of soup, fried idli in place of Punjabi starter, then you can have wide ranges of Dosa and Uttapas, and in desert you can have the most delicious and soft coconut burfi. 22nd parallel also serves complementary 4 types of chutneys, which are tomato, Malgapuri, Garlic and Coriander yogurt chutney.
All the dishes in 22nd parallel is worth trying once in for all the life time, but if you are visiting for the first time then you can definetaly try mysore tomato rasam, garlic masala idli, cheese tandoor dhosa, barbeque uttapa and cocunt burfi with mawa ice-cream.
Address: GF 12-14, Shukan Ananta, Nr, Muktanand Cir, Karelibagh, Vadodara, Gujarat 390018, First Floor Tapan Building Jetalpur Road Next to MCube Mall, above oven magick, Vadodara, Gujarat 390007.
---
2)Udipi Restaurant
When I was 4 years old, I visited Udipi and had Dahi Wada and Mysore Rava Dosa and trust me it's been 15 years till date and it tastes still the same. One of the oldest and modest restaurant in town situated in the area which developed well in last 10 years but udipi is still the same. Apart from South Indian it also serves Punjabi and Chinese cuisines.
My personal favorite dishes are masala dahi vada, rava dhosa, vada sambhar, paper masala dosa, coconut buttermilk, mysore spicy masala dhosa.
Address: 7,8,9,10 & 13 Mangal Kirti Apartment opp petrol pump, Fatehgunj, Vadodara, Gujarat 390002
---
3)Dakshin Brahmin
Dakshin Brahmin has very peppy interiors and amazing unique crokery. Here, the food is served in banana leaves and traditional white bowls. Dakshin Brahmins is one of the fastest growing chains in the town and it also provides great staff service. Price is little high compared to other south Indian restaurants but it's worth trying for.
Do try idli appam, masala tomato uttapa, cheese chilli phudina dosa, mysore vada, payasam and potato stuffed idli.
Address: 1 & 2, Ground Floor, Indraprashth Comercial Complex, Natasha Park 1, Nizampura, Vadodara, Gujarat 390002, Vrundavan Mall, 1st floor, Parivar cross road, Waghodia Rd, Vadodara, Gujarat
---
4)Sankalp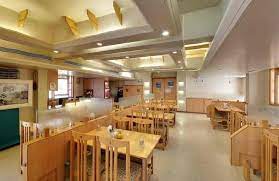 I guess the name itself is enough. Serving since 1968 Sankalp is worldwide south Indian chain. One can never regret vising Sankalp as it not only provides great food but it also provides amazing chutneys and other complementries too. This restaurant serves sambhar in a vessel whose shape is like alladin's lamp and it also gives pan in dessert.
Everything on the menu is simply delicious and worth trying but some of the special are Palak onion dosa, Schezawan Uttapa, Kaji delight idli, Tamota rasam, Garlic dosa with sweet yogurt and my favorite Mysore masala rice with sambhar.
Address: penta Complex, 101/102, 1st Floor, Race Course Rd, opp. UTI, Vadodara, Gujarat 390007
---
5)Milton's South Corner
From laari to Ac dinner, Milton South Corner has an amazing journey. It is one of the rare restaurant in town which provides great ambience along with safe parking space. Very obident staff service and great food served hot with real taste of south india. What to spend a wonderful afternoon with your loved ones? Well here is the place.
Veg Stew and masala idli are to die for, do try exotic dhosa with all tyoes of chutneys and along with it do try mysore appam.
Address: 9-12 Pratham Plaza, opp. Taj Gateway, Pratham Avenue, Akota, Vadodara, Gujarat 390020
---
6)Zaafaroon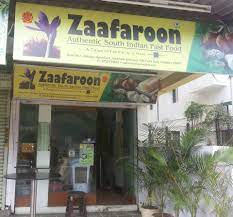 When it comes to hygiene, Zaafaroon takes the call, the staff is so well mannered that they bows and welcomes you. The ingredients are so fresh and aromatic that you will be hitched to thus place. Rates are little high but restaurant is worthy to visit.
Must try: Vada sambhar, Mysore korma, Rasam, Banana pie, chef's special Uttapa, Parippu Vada, Medu Vada, Dahi Vada,Maddur Vada, Sarvapindi, Aappalu.
Address: Shop No.: 1, Shivalay Apartment, Haribakti Extension, Old Padra Rd, Vadodara, Gujarat 390007
---
7)Canara Coffee House
History of Canara Coffee House have a lot to talk about the history of Baroda. This restaurant was started in 1950's. Back in those days this was the only cafe in the city. Since back then canera café serves most delicious and pocket friendly south Indian meals along maharastrian and gujarati cuisine.
Do try mysore rava masala dosa, mix veg uttapam, dahi chatpata vada, sev idli, puneri missal, along with these chatpata cuisine you can also flavors of lassi and colddrinks.
Address: Beside Premanand Hall, Dandia Bazar, Vadodara, 390001
---
8)Gurudev Restaurant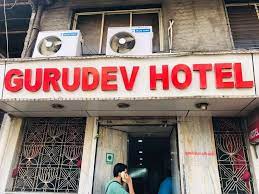 Gurudev restaurant is one of the oldest and most visited south Indian delight in the prime location of town. Here you can have food at very reasonable rates but the only con is here you have to service yourself. Sitting arrangement is also traditional style and one can always enjoy themselves here.
Must try: Idli sambhar, Vada sambhar, Rava dosa, Paper masala dosa, Masala buttermilk, Mysore masala dosa, Puna missal and masala dosa.
Address: Chhatrapati Shivaji Marg, Babajipura, Vadodara, Gujarat 390001
---
9)Staple-The South Saga
Ever heard food served in 5 minutes within the order? Welcome to Staple, here you will be served within a blink of an eye. Relishing and exotic dishes are brought to you by cultured staff service. Peppy lightings and charcoal ambience just adds beauty to thus place.
Must try cheese Rava biscuit, Paniyaram, Neer dosa, Podi dosa, Ghee Mysore dosa, 3feet masala paper dosa, Ghee podi rice, Termerind rice, Coconut upma, Rava spinach dosa.
Address: Gold Croft Complex, GF-3, Jetalpur Rd, opp. Chikuwadi, Vadodara, Gujarat 390020
---
10)Ganesh Fancy Dhosa
The concept of fancy dhosa was originated from surat where you get the dhosa and masala diffrentely. In the tenure of 2 years surti dhosa has grown well in vadodara. Here you can taste 100 types of south Indian dhosa with gujarati and Chinese touch in it. Ganesh fancy dhosa has pioneered the sale of fancy dhosas in vadodara.
Must try Dabeli Dhosa, ginne roll dhosa, raja rani dhosa, garlic cheese dhosa, schewan chesse dhosa, chocolate hazelnut dhosa, spinach onion dhosa, spring dhosa, Manchurian crisp dhosa, nylon dhosa, hara bhara dhosa and many more..
Address: FF-108/109, Sakar Complex, Near Gurunanak School, Somatalav-Tarsali Ring Road, Tarsali, Vadodara, Gujarat 390009
---
---
Previous
10 Most Famous South Indian Restaurants in Vadodara
Related posts