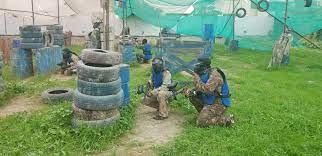 Are you and your friends bored of visiting the same places and having the same kinda food every time you meet? Are you literally out of cafes or any other interesting places in Ahmedabad? Well, a great suggestion to recover all your dying spirits is to visit some of the most exclusive nearby game zone in Ahmedabad. Yes! Believe me, these game zone will not only give the most adventurous experience that you all are craving for years in Ahmedabad, but will also help you generate some of the most memorable moments with your buddies! So what are you waiting for, buckle up your seat belts, read the given list of best Game Zone in Ahmedabad and head straight towards these spots without causing any delay!
---
8 Best Game Zone and Fun Activities in Ahmedabad:
---
1)Fun City –Ahmedabad One, Vastrapur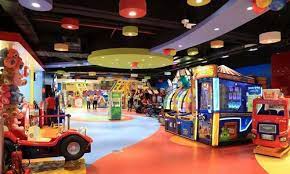 Located near beautiful Vastrapur Lake, Fun city is the best game zone situated in the most popular mall of Ahmedabad. From 3D games to rides to toy cranes, the game zone is loaded with fun and entertainment. It offers a crazy experience to children of all ages. However, the Gamezone's most intriguing part lies in the fact that once you use any game machines it draws out a number of tickets which can further be utilized to purchase interesting game items from the counter. The game zone also has a food counter wherein you can sit and chill while your children enjoy roaming around in the nearby area and playing with the best game items. The place has a great staff, great maintenance and most importantly great ambience too.
Address: Alpha One Mall, 3rd Floor, Sarkari Vasahat Road, Vastrapur, Ahmedabad, Gujarat 380052
---
2)Shott, Thaltej
You ask –"Ok Google, Show me the best game zone near me." Shott is literally the most plausible answer that you will get in Ahmedabad. Popular for its bowling zone, shott is the most appealing GameSpot for all the teenagers of the city. Moreover, the place has the best rides, the best racing area, the best toy cranes and everything a perfect game zone is expected to have. Its fancy interiors and trendy ambience have become the talk of the town in recent years. This place literally plugs your nerves with game addiction. You can play cricket, visit the pool, go-to the formula 1 racing area or just chill at the game arcade with over 50+ games. Overall, Shott is the best area to grab food with your buddies and rejuvenate your dead game soul!
Address: Shott, Opp Saket-3, next to SANKALP SQUARE, On, Sindhubhavan Marg, Thaltej, Ahmedabad, Gujarat 380059
---
3)Unlocked, Navrangpura
Unlocked is an amazing fusion of a cafe and a game zone in Ahmedabad. It literally offers you the choice of having mouthwatering food along with playing a number of board games free. This makes it the best place for shredding all your weekly tiredness by hanging out with your friends or childhood buddies with lots of games and lovely food. Moreover, the place is also the best spot for enjoying a mystery room wherein you are allowed to move in with a group of 3-5 people and solve the most thrilling mystery in order to escape out of the room.
Address: Chimanlal Girdharlal Rd, near Girish Cold Drinks, Vasant Vihar, Navrangpura, Ahmedabad, Gujarat 380009
---
4)Respawn The Game Club, Prahaladnagar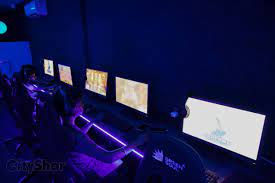 Respawn game zone is another fabulous spot in Ahmedabad to chill with your friends and enjoy the series of video games it has. The place has a setup that is going to make you feel the adrenaline rush flow and systems that are going to make sure, your experience is seamless! Above all, the best part of the zone is that it offers 50% off to all its customers on weekdays. Though the place does not have big technical game machines it provides amazing visual games in its lab-like area that will gasp the awe out of you!
Address: Campus Corner 1, 100 Feet Anand Nagar Rd, Prahlad Nagar, Ahmedabad, Gujarat 380015
---
5)Breakout, Prahladnagar
Another fabulous Mystery Room, Breakout is one of the best game zones in Ahmedabad. It literally gives you the option to be a character and start your own story! You can diffuse bombs, investigate murders, step into the shoes of a full-fledged detective and be a hero in the end. Adventures, thrill, horror, you can literally experience all of these amazing feelings just in 60 minutes. Moreover, the place tests your analytical thinking and offers you clues that have to be solved in a stipulated amount of time.
Address: A-202, 2nd Floor, Pushpak Complex, Prahladnagar Main Road, Opposite Prahladnagar Garden, Ahmedabad, Gujarat 380015
---
6)Mystery Rooms, Vastrapur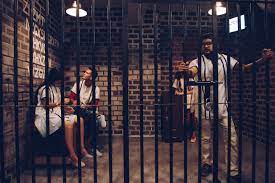 Mystery Rooms is another popular game zone in Ahmedabad which is best at its service. Located near Vastrapur lake, it also follows an escape room format wherein you just have to enter the place with your squad, use your skills, find out the clues and solve the mystery within 60 minutes. Isn't it fun having some amount of thrill with your buddies rather than just sitting and grabbing boring food with them?
Address: 201, A-Wing, Amrapali Lakeview, near Alpha One Mall, Vastrapur, Ahmedabad, Gujarat 380015
---
7)Boot Camp, Thaltej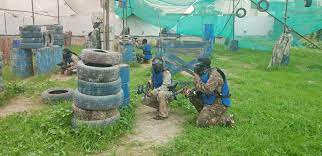 The only adventure sports management company in Ahmedabad, Boot Camp adventures provide the best experience to all its visitor. Though this game zone does not offer game machines or tracks to use, it is popular for its paintball course. However old you are, this place will never fail to give the sense of adventure that you longed for as a child. You go for body zorbing, targeting shooting or paintball, and everything will intrigue your nerves to the fullest. The game area challenges the human spirit gives them the experience of sheer joy and thrill of indulging in adventure sport. The arena is well maintained and is a must-visit for the people searching for any game zone nearby Ahmedabad.
Address: Bang Bang, 100ft, Hebatpur Rd, PRL Colony, Thaltej, Ahmedabad, Gujarat 380054
---
8)Iceberg Snow World , S.G. Highway
Open 365 days a week, Snow World is the best zone to take the feel of the chilling winter season that too in mid-summer. Filled with snow all over the space, Snow world makes children tumble upon the icy-mountains or make weird snow men. Snow in Ahmedabad! That's all the USP of the spot contains and it is more than enough for any Amdavadi to visit the place in hot sizzling summer. Snow world is an unlikely paradise that definitely deserves a visit at least once in your summer break!
Address: Dev Arc Mall, B-101-3, Sarkhej – Gandhinagar Hwy, Iscon Cross Road, Ahmedabad, Gujarat 380054
---
However you grow in your age, there is always a kid inside you who vouches for some sort of entertainment and adventures every time to think about something nice. And in order to quench this thirst for happiness and joy among your friends, you must all these game zones in Ahmedabad and freshen up your spirit at least twice a month!
---
---
Related posts