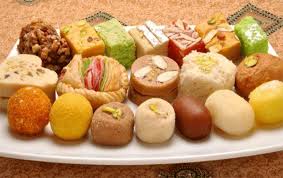 For ages, Sweetness and Gujarati have been going on hand in hand in Ahmedabad. By default, every Gujarati dish is clubbed with sweetness. For instance, you have Jalebies with fafda, sweet kadhi with khichdi etc. Whole Ahmedabad craves sweet dishes 24×7 and people who are new here are keen to search for some amazing sweet shops serving mouthwatering sweet dishes. For all the people with sweet tooth here is a list of the best sweet shops in Ahmedabad serving a variety of sweet dishes from Bengali to Gujarati to Rajasthani and what not.
---
List of Most Famous Sweet Shops in Ahmedabad:
---
1)Kandoi Bhogilal Mulchand, Narvrangpura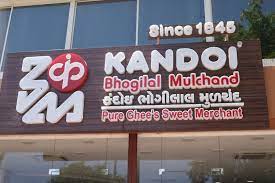 One of the oldest sweetshop in Ahmedabad, Kandoi has been serving its nearby local customers since 1845. Its huge shop has gained trust over large Gujarati customers. Its super creative serving style and mouthwatering sweets make you go wonders. Traditional sweets, dry fruit sweets, milk items, namkeen, festive specials etc, this authentic sweetshop offerers typical Gujarati desserts divided into numerous categories. Some of the sweetshop's most unique dishes include Pina choco matho, Vokano walnut and dudhi halwa. Also, don't forget to try its yummy dry snacks like fulvadi and Ganthiyas before you leave.
Address: Tennis Court, 10 ,Amrutbaug Society, Opp, Sardar Patel Stadium Rd, Ahmedabad, Gujarat 380014
---
2)Gwalia Sweets, Thaltej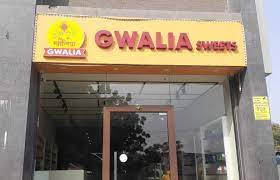 The most famous sweet shop in Ahmedabad, Gwalia Sweets is the best place to have supreme quality sweets in Ahmedabad. It offers both a dine-in and takes away option which makes it extremely convenient for customers who don't live nearby. With multiple franchises spread all over Ahmedabad, Gwalia sweets not only offers the best Bengali and Gujarati dishes but even some delicious varieties of fast food like Chole bhature, khamand etc. Its fabulous gift hampers are the best presents you can exchange during a special occasion like Diwali, weddings etc. From dry fruit sweets to Mava Mithai to mini chocolate Ladoos, Gwalia specializes in all genres and offers the best quality you deserve.
Address: Ground Floor Shop No 15 Maple Trade Center Near Surdhara Circle, Road, Thaltej, Ahmedabad, Gujarat 380054
---
3)Vipul Dudhiya Sweets, Navrangpura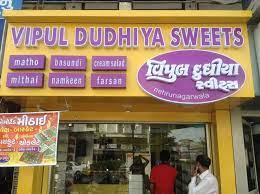 Another amazing shop to buy delicious sweets in Ahmedabad is Vipul Dudhiya. It's a combination of dairy products and a sweet shop that everyone loves to visit. Apart from basic sweets, it also offers special namkeens, dry snacks and yummy Gujarati deserts. There is absolutely no doubt about its quality and taste and dishes like Srikhand and Basundi are the best thing to have Vipul Dudhiya Sweets!
Address: Near, 2, Navnidhi Complex, Stadium Cross Rd, Navrangpura, Ahmedabad, Gujarat 380009
---
4)Jai Hind, Panjrapole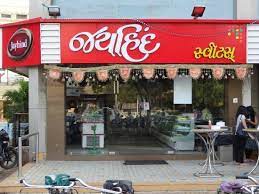 Located at multiple spots in the city, Jai Hind too specializes in serving amazing sweets in Ahmedabad. Its dry food sweets, assorted bites etc are the yummiest things you'll have. Moreover, the sweet shop also offers a variety of cakes, bread, snacks, cookies, and a number of bakery items thereby becoming a multipurpose store. With 5 star rating everywhere, their good quality Sweets at reasonable prices, in a soothing and comfortable environment will make you have a great experience. Mohan thaal and boondi laddoo are the best dishes to have here.
Address: 8-A, Shivalik Plaza, IIM Rd, opp. AMA, Panjarapole, Ambawadi, Ahmedabad, Gujarat 380015
---
5)Bikanervala, Vastrapur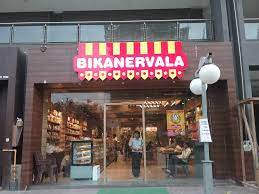 Half-brother of Gwalia sweets, Bikanervala is also the best snack cum sweet shop in Ahmedabad, with both dine-in and takeaway options. It's a huge restaurant like outlet which offers a great variety of sweets and desserts. Its badam katli, Kaju dosha and cham cham are specials offerings to have whenever you visit the place. Being an international brand, there is absolutely no compromise in the taste and quality of the products it offers. Apart from sweets, its Raj kachori and Delux thali must not be missed at any cost.
Address: Indian Institute of Management Old Campus, 132 Feet Ring Rd, Vastrapur, Ahmedabad, Gujarat 380015
---
6)Shreeji, Ghatlodiya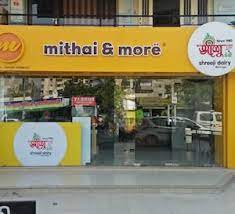 One of the most famous sweetshops in Ahmedabad, Shreeji is located at multiple places. Shreeji sweets offer the best quality products in the most authentic way. It is also a combination of dairy and sweet products providing great utility to the customers. It even offers things like frozen Rasmalai and Kaju dry fruit Mithai which you will hardly be able to find at any sweetshop of Ahmedabad. Its chilling desserts taste so delicious in the sizzling hot summers of Ahmedabad, that you will visit the place again and again!
Address: G5 Astha Complex, Nr. Allahabad Bank, Prabhat Chowk, Maharana Pratap Rd, Ghatlodiya, Ahmedabad, Gujarat 380061
---
7)Saurashtra Ganthiya Centre, Judges Bunglow Road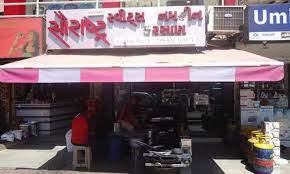 It is hardly possible to enter Ahmedabad and you don't visit Saurashtra. This famous snack shop of Ahmedabad only offers Gujarati snacks that too in a huge variety. Its heavy dishes will make you literally have your whole meal and you will not require anything else to satisfy your hunger. There is no other shop in Ahmedabad that offers mouthwatering Jalebies like Saurashtra. It is such hype to eat snacks at this place, that on Sunday morning you will find huge queues of people waiting for they turn to order food outside the shop.
Address: Shop No.2, Chinmay Apartment, Judges Bungalow Road, Nyay Marg, Vastrapur, Ahmedabad, Gujarat 380015
---
8)Sweet Corner, Thaltej
Located at a prime circle, the Sweet Corner is another sweet cum bakery cum snacks center. It's best at serving quick delicious sweets with real home-cooked taste. It's a typical sweet shop perfectly located for all the nearby customers. Following typical Amdavadi culture, Sweet corner also offers a number of Gujarati snacks and Namkeens which you will definitely want to try.
Address: 7 Shailly, Sal Hospital Road, Thaltej, opp. Surdhara bunglows, Ahmedabad, Gujarat 380054
---
9)Jodhpur Sweets, Shastrinagar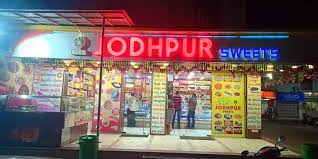 Inspired by the royal deserts of Jodhpur, Jodhpur sweets is the best place to have somewhat different sweets in Ahmedabad. With a very basic menu, the sweetshop strives to maintain good taste and a nice presentation. You can even find some unique Marwadi namkeens at the place and enjoy the taste of Address: Rajasthan. Specifically serving dry fruit desserts, the best things to have here are Dry fruit roll and Kaju Anjeer.
Address: 44. Sharddhadeep Complex Ankur Ranna Park Road Nr. Vegetable Market, Shastrinagar, Naranpura, Ahmedabad, Gujarat 380013
---
All these amazing sweetshops in Ahmedabad can be trusted with blind eyes. Their taste, quality and hygiene are all well maintained and creatively presented. The most amazing part about all of these sweet shops is that they are available at multiple spots making them the most convenient for all the customers of Ahmedabad!
---
---
Related posts