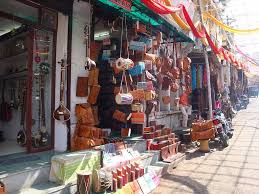 Udaipur is known as the "City of Lakes". Udaipur is also one of the 3 places in India which is called the "Venice of East". It was formerly known as the historic capital of Mewar in the former kingdom of Rajputana. It has many artificial lakes, mountains separate Udaipur from Thar dessert by covering it from all the directions. This place is a must to visit for the people who love historic things and also for the royal treatment. Visit to Udaipur is not complete until you can buy things to be kept as a souvenir.
---
List of Famous things to buy in when you visit Udaipur:
---
1)Rajasthani Mojari (Footwear)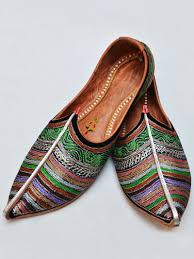 What's shopping when you don't get to buy shoes? Mojari is traditional footwear made of leather with some beautiful and mind-blowing embroidery. The best part is yet to come, it's available for both men and women. It really looks great with any kind of dresses you plan to wear either Indian or western. It is one of the must-buys when you come to Udaipur.
The interesting thing is that it is not much expensive it will cost you around Rs 500-1000. This price isn't much of a deal to pay for royalty in your looks.
---
2)Puppets(Kathputli)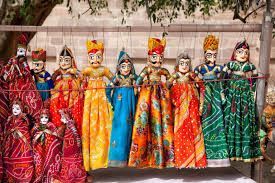 Looking for something to showcase or gift or give to your children, it is the best thing to buy from Udaipur. It is locally known as "Kathputlis" and is very beautifully decorated and hung on strings. Artists use the string of the puppet for the dance show over a traditional song or used to narrate a story. It is a total delight to watch. These puppets are made to wear traditional embroidered clothing and the price of these puppets depends on the embroidery on the embroidery of the puppets. Price starts from around Rs 200 and can go higher depending on the dress.
---
3)Traditional Rajasthani Outfits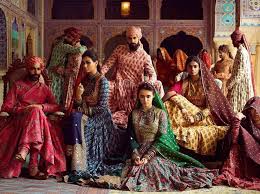 Are you getting bored with your regular dressing, and are worried about what you should do? Traditional Rajasthani outfits include Kurta/Kurti, ghagra, sherwani, Rajput style dresses. These dresses are more preferred in any traditional functions over your normal dresses. While visiting the city, you can see many people wearing these clothes and getting photos clicked.
---
4)Tribal Silver Jewellery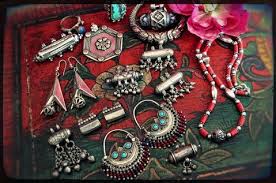 These are very famous in various parts of Rajasthan. There are many kinds of jewellery available like gold, silver, platinum, lacquer etc. It is one of the many things that people come and buy from various parts of the world. Be ready to be mesmerised by the beautiful piece of art that you'll see and won't find in any other part of the world other than Rajasthan. This is one of the reasons that it is one of the best things to buy from Udaipur.
---
5)Danka Embroidery Cover
This type of embroidery is very famous in the country and it attracts many tourists to Udaipur. This is usually done on cushion covers and provides a classy, traditional and royal look to the cushion. It is one of the best things to buy from Udaipur which can really increase the royal look in your home décor and put a good impression on your guests.
---
6)Paintings/Potraits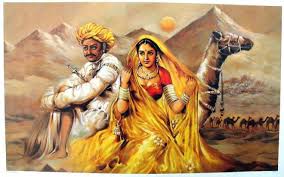 Udaipur is particularly known for the Paintings. These paintings are from Mughal and Rajput era. This brings a new kind of royalty in your houses and is the major reason why the people around the globe come and buy it from Udaipur. There are many paintings of the Hindu gods and goddesses which will stir your soul. This is the best thing to buy in Udaipur. It is highly recommended to come and buy some of the famous paintings from Udaipur for your home and add royalty to your décor.
---
7)Vintage Collections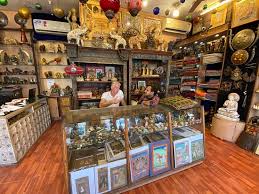 It includes many beautiful things like wall clocks, flower vases, stone artefacts, lamps etc, this is a never-ending list. You can see so many beautiful things that you can't resist buying. The range of things from lamps in almost all shapes to colourful flower vases and some stone sculptures of gods, people or something else is really a delight for the eye. All this stuff can give your house not only a royal but an artistic touch that will stay in the minds of the people who visit your house. These are the best things to buy in Udaipur and many people from different countries come and buy this kind of stuff.
---
9)Bandhej Fabrics
This is a unique type of fabric that can be found in Rajasthan only. It is usually done on both cotton and silk. The fabric pattern is made by dying it into vibrant colours and binding knots at various places in the fabric for avoiding certain spots, from being stained by the dyes. This type of work can be seen in dupattas, saree cloth, bedsheets and pillow-covers and sure gives a royal look and is one of the best things to buy in Udaipur.
---
10)Pagdis (Turbans)
These are the traditionally worn by the people in marriage or some other functions. It is seen as a sign of respect in the Rajasthani Culture. This comes in different sizes and different type of patterns like embroidery or mirror work or plain pagdi. This is traditionally worn by the relatives of the bride and groom at the wedding.
---
11)Leather Journals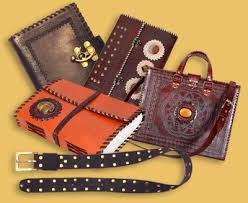 Are you a fan of writing and maintaining diaries? If yes, then it is the best thing in Udaipur that you can buy. The diaries have leather covers with some great embroideries or mirror work or refined traditional paintings. It could range from as low as Rs 80 and can go as high as Rs 1000 depending on the embroidery and the paper quality.
That's all the things one needs to know about shopping best things in Udaipur. Wait the main part is still left, where to buy all this stuff from?
---
List of all the places where you can shop these best things from:
---
1)Hathi-Pol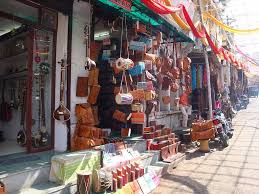 This is the place where most of the locals buy their things from and almost most of the above-mentioned stuff can be found here at a comparatively cheaper price as compared to other markets.
---
2)Shilpgram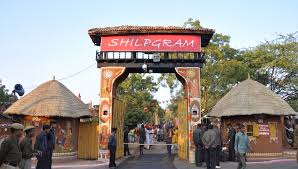 This is a place 3 kilo meter outside Udaipur and here you can find all the authentic and hand-made Rajasthani things and if you have time you can even enjoy the performances. If you happen to come in December then there is carnival held where the traders from all over the country come and sell their products.
---
3)Jagdish Temple Chowk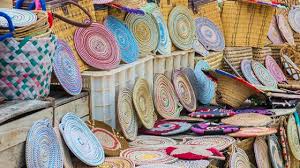 This is the most touristy place in Udaipur because all the royal things are here like the city palace and many other things, so naturally this is the place of attraction of all the foreigners and this place is a bit expensive. You should visit the city palace, Jag-mandir and udaivilas. The latter two are in the middle of a lake and just adds to the scenic beauty of this place.
Related posts