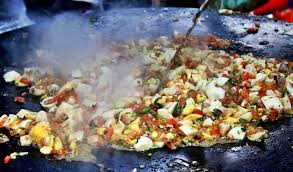 Food is one of the basic needs of human, food is what keeps us going. No matter how big restaurant you eat but the food that the heart craves for is street food. Especially for Indians, we don't get a sense of satisfaction unless we eat something spicy, we can't complete the week or even a day peacefully.
We need to go and eat that inexpensive and still sometimes the best dish we'll ever encounter. The spicy and the sweet taste seems to touch our hearts and also lives in our hearts for ages. When we walk past these food-stalls we can smell the aroma and then it's like our brain sends us the signal to go and eat and our legs involuntarily move towards the stall and order, that's how influential and tasty street food is.
---
List of Famous Street Food in Udaipur:
---
1)Poha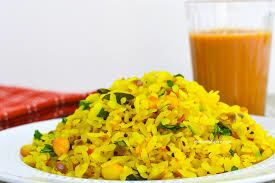 This dish is most of the most famous breakfasts in India and is loved by masses. It is a very healthy food as first of all its basically flattened rice and secondly, it is free from fat. This yellow food is famous in the western and central parts of the country. It is famous in Rajasthan, Gujrat and Madhya Pradesh.
The best Poha in the city is served by Jain Nashta centre near Shastri circle. It starts early in the morning from around 5:30 AM and will be present till 6 PM. You can see it crowded from 6 AM itself, so might have to wait for your turn, but trust me it's totally worth waiting.
There are two types of plates, one is of Rs 10 and another Rs 15. The 15 Rs plate can fill up your stomach and you'll be done for breakfast. They sprinkle chopped onion, pomegranate, green coriander, boiled chana and sprinkle some lemon juice. This is enough for luring your taste buds and the aroma of this Poha can drag you even when you cross this shop. You can also have samosa, kachori, jalebi and tea. Some other alternate places where you might get good Poha are Bholenath Nashta centre near Sukhadia Circle and Jain Poha at Sevashram.
---
2)Boiled Egg Bhurji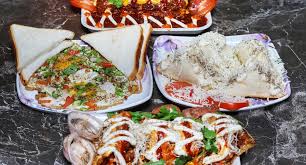 Location-In front of Chetak Cinema Place, Chetak Circle.
This is the place which is responsible for converting many vegetarians into nonvegetarians. You simply can't resist the aroma of this delicious dish even while driving past Chetak circle. This place has been serving world-class bhurji since the '80s. Unlike the regular bhurji which is just scrambled egg this dish is basically egg curry.
This dish is one of his original dishes. He has many egg dishes of his own and is known as the "Egg King of Udaipur". This recipe consists of tomato, chopped onion some oil and some spices and then some boiled egg pieces are put in and is cooked on a big pan. This dish is served with bread and is spicy that you'll start hissing and still, you'll want more and more. There are many other dishes also and they are also very nice but this one is worth mentioning in the best street food in Udaipur.
There is no other place where you can get this bhurji. It is so good that many people from different countries come here.
---
3)Vada Pav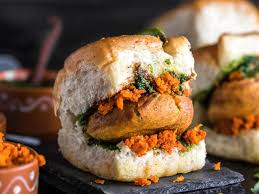 Vada Pav has origins in Maharashtra but its simply so great that it became famous in many other cities across the country. There are many shops in Udaipur too, but the most authentic taste is found at only some places. One of such places and the best among them is Poornima Vada Pav, on Chetak-Hathi-pol main road. The taste here is so great that when you bite the Vada Pav, first you can feel the soft bread (Pav) and then comes the crunchy and spicy Vada. This dish hits at best places and it's a total delight for the taste buds and you are just lost in the wonderful taste of it. It is experienced more delightful.
There is also one place named Venda Vada Pav, 100 ft road Shobhagpura which has a mesmerising taste too. The unique thing about this place is that it has managed to add a modern taste to this dish by giving many other options like cheese Vada Pav with mayo and many other such dishes along with buttermilk which just adds to the taste.
Shankar Vada Pav and Dabeli, Sukhadia circle – This place also serves great Vada Pav and has both red and green chutney.
---
4)Kachori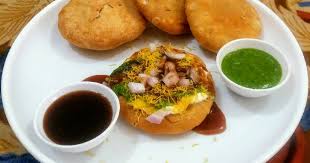 This dish is not only famous in Udaipur but in whole Rajasthan. There are basically two types of Kachoris, Dal Kachori and Pyaaz (onion) Kachori. This dish is served hot with green chutney and slightly sweet tamarind chutney and with curd. This taste is so good that you can't resist eating.
For many households, it's a dish for breakfast on Sundays. The best place to find Kachori in Udaipur is Pratapgarh chat waala outside central jail. It is very famous for its Heeng Kachori. One more special thing about this place is that they serve in leaf, thus reducing the non-biodegradable waste. The other places where you can get great kachori is at BMB sector 4 Main Road and JMB, front of RNT.
---
5)Bread Pakora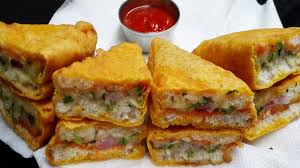 Bread Pakodas are basically sliced pieces of bread stuffed with potato masala which are dipped in Besan mixture which consists of besan, water and some spices and then deep-fried in hot oil and served hot. The best Bread pakora is found at Fatehsagar, imagine enjoying the cold breeze with hot bread pakoras. This shop is at Bombay Market and is the only stall selling bread pakoras. They sell these pakoras in a triangular shape with some salted fried chillies. Cost of this bread pakora is Rs 10 per piece and is worth every penny you spend that too at this awesome location.
---
6)Dabeli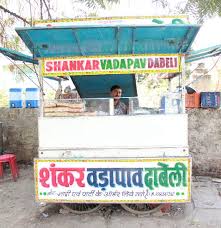 This dish might look like Vada pav to some or a smaller burger to others. But it is very different from both. Unlike the spicy Vada pav, this dish is a bit sweeter due to the sweet tamarind chutney and unlike the potato Tikki in a burger, it has mashed potato mixed with some spices, pomegranate, sev and some ground nuts (at some places only). It is served with green chutney and some tomato ketchup. The best place to find this dish is Shankar Vada Pav and Dabeli stall, Sukhadia Circle. The cost of the Dabeli is Rs 20 and sure is very tasty.
---
7)Pani Puri(Golgappa)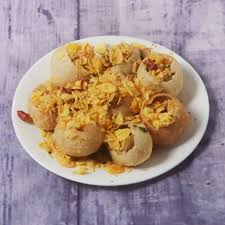 This dish is one of the most famous dishes in the entire country. You can literally find this food item in most parts of the country and is usually crowded. Now there are two types of Pani puri, one in which the crispy puri is stuffed with aloo and Chola mixture along with some other masalas and chutneys and another is a full aloo masala with along with some spices and chutneys. Either of the mentioned is stuffed in the crispy puri and then filled with flavoured water consisting of some masala, mint leaves and coriander leaves.
There is another type of dish that is found at pani puri shop which is also worth eating. The name of the dish is Aloo Tikki. This is basically boiled mashed potato along with some kind of spices, deep-fried from both the sides and served with layers of Chola, some chutneys, sliced onions and tomatoes and curd.
Best Pani Puri and Aloo Tikki can be found at Savariya chat centre at Ashok Nagar main road.
There is one more place where you can find this best street food is at Poornima chat centre at Bapu Bazar. This place also has some mind-blowing Chinese menu along with the Chaat section.
---
8)Pav Bhaji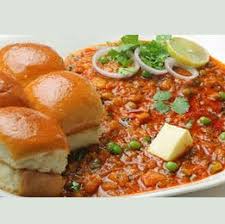 This is again a dish which has its origin in Maharashtra but has become famous in many parts of the country. The best thing about this dish is that it can be eaten for any meal of the day be it breakfast or lunch or even dinner. The spicy Bhaji along with some crispy Pav roasted with butter is definitely one of the best street foods not only in Udaipur but in the entire country. The best place to find this is at Pandit Pav Bhaaji in front of the townhall. This place has been serving pav bhaji for a lot of years and it can be seen at the stalls. It can be recognised as the stall with most of the people.
---
9)Chole Bhature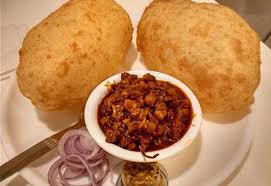 This is a dish which is originally from Punjab but now can be found anywhere in the country due to its taste. This dish consists of chole, bhature which is basically fried bread made of maida. It is served with a pickle and sliced onion which we can sprinkle on the chole and mix it properly before eating it. The first thing almost every Indian does to the swollen bhatura is poking the finger inside the hot bhatura.
The best place to find this has to be Sukhadia Circle. There are also many different stalls there where you can get almost every type of street food. These food stalls are very famous for many things and that's the reason you get the best Chole Bhature and the best street food in Udaipur.
---
10)Sandwiches and Maggi
Craving for food, but want something light? We have a perfect solution to this problem just head to Bajrangbali sandwich at Panchwati. And order a sandwich or a plate of Maggi. The sandwich here is so tasty due to the special recipe of the owner, he mashes the potatoes and mixes different types of chutneys and spices which just makes it so delicious. The cheese Maggi here is a must eat. He cooks delicious Maggi using some of the spices and onions and then puts a complete slice of cheese! The prices are also so reasonable that you can't resist the offer. Masala cheese sandwich for Rs 60 and cheese Maggi for Rs 70.
---
11)Kulhad Coffee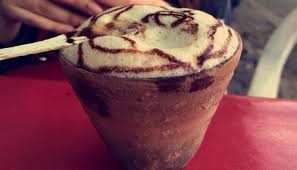 The first thing that comes in mind when somebody says coffee in Udaipur is Kulhad coffee at Fatehsagar. The coffee here is not served in some regular paper glass or something rather it is served in Kulhad (pot made from mud). The coffee rising above the brim, the chocolate powder, the chocolate sauce along with the awesome weather. At Fateh Sagar is like heaven on earth. You can find it in almost all the shops at Bombay Market in Fatehsagar. Deciding the best would not do justice to the other shops. I'll just say the best place is Bombay Market.
---
12)Paan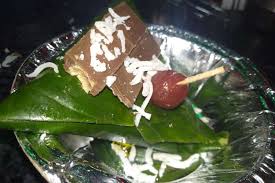 Done with the meal? Want something to hog off all the food go to Bansi Pan, Bhopalpura circle. Though it's not proper food, still you can count it as a dessert. The speciality of Bansi is that he uses big pan leaves and the taste is also on another level.
---
13)Jalebi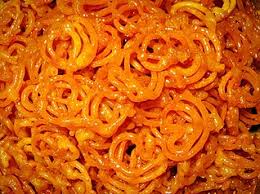 Jalebi is a sweet dish which is very famous in Udaipur and one of the best street foods one could ever have. This is responsible for breaking the dieting schedule of various people. This is eaten in two ways one is simply eating the jalebi and another way is dipping the jalebis in hot milk and eating it using a spoon. The latter is usually preferred in winters as it gives relief from the chilling cold of Udaipur especially while at open places. The best jalebi can be found at Bhole Mishthaan centre. Some other places are JMB in front of RNT hospital and JMB at Ashok Nagar.
---
14)Mirchi Bada
This is not a very famous dish but only the people who have tasted it know what is it really like and they just can't get enough of it. The best Mirchi Bada can be found at Bhuwana- Sukher main road in front of Jyoti school. The owner of this stall has a different yet special recipe for making it. He uses normal sized chillies unlike the usual one big chilly. This is mixed with some mashed potatoes and some masala is added to it. And then a pint of lemon juice and it's dipped in besan and then deep-fried. This is the best street food for the people who have tasted it.
---
15)Masala Dosa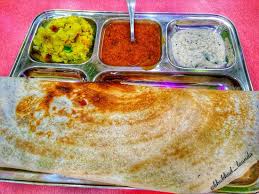 Personally, I'm not a fan of Masala Dosa but the masala dosa of this place is simply magical. And I have no second thoughts about it. The place which I'm talking about is Shankar Madrasi. This place is not known to many people yet it's very crowded every time I've gone. You can identify it as a blue coloured stall with a lot of crowd on the Main road of Bhopalpura. You can also try eating idlis and vadas from here. Another speciality of this place is the chutneys and sambhar that they give. It just can't be described in words and is the reason why it is the best street food in the town.
Related posts