---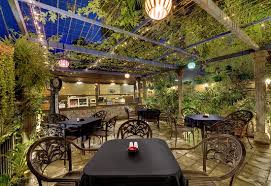 Ahmedabad is a hub of a variety of cafes located at every corner of the city. From teenage to oldies, Ahmedabad's cafes are famous for their vast reach and huge popularity. You will literally see wedding dinner being hosted in extremely classy cafes of Ahmedabad with a variety of continental cuisines instead of typical desi Indian cuisine. Also, the speciality of Ahmedabad's cafes lies in its diversity in the menu. From Continental Pink Sauce Pasta to Normal Rumali Roti, there is rarely anything you can't access in the city's cafe every time you go. So are you the one craving for delicious cuisines, or do you want to get out of friends FOMO and show off on social media? Do visit these best Cafes in Ahmedabad and fulfil all your requirements in a single go.
---
BELOW ARE 22 BEST CAFES IN AHMEDABAD FOR MUST TRY:
---
1)Varie-tea Cafe, Sindhu Bhavan Road
With one of the most delicious food that Ahmedabad can offer, Varie-tea Cafe is the best spot you can visit in Ahmedabad. Its solid interior and mind-blowing food will blow your mind and make you find excuses to return to this place. The cafe is not only famous for its amazing dining but also its extremely beautiful rooftop service. Its location at the café hub of the cities attracts people from all over the city and gives them an everlasting effect. Although the café maintains extraordinary taste in each and every dish it serves, butter garlic fries and Mexicano Sizzler are a must-try in this café. Apart from this, as the name suggests, Varie-tea café offers a variety of tea that will drive you in wonders!
Address: Rooftop, Shilp Aaron, Sindhu Bhavan Marg, Bodakdev, Ahmedabad, Gujarat 380054
---
2)Poetry Cafe, Thaltej
---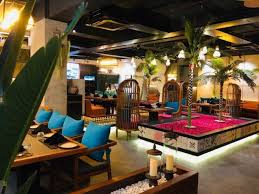 With its superb menus and fabulous dining area, Poetry Cafe of Ahmedabad is yet another amazing cafe that will gasp the awe out of you. Its aesthetically pleasing ambience and spacious interior make it the best café in Ahmedabad for throwing parties or holding get-togethers. You can take your families, friend, children and literally any food lover to this café and it will serve you the best service you've ever received. The cafe has also gained popularity for its ability to maintaining amazing taste and creativity in serving food. Some of the must-try dishes of the café include its Puffy Nachos, Rosti Paneer and Tini Mini!
Address: 1st Floor Mann Party Plot, Sindhubhavan Marg, PRL Colony, Thaltej, Ahmedabad, Gujarat 380054
---
3)Cafe Mocha, Bodakdev
With two branches all over Ahmedabad, Cafe Mocha is hype for the younger generation in Ahmedabad. Its elegant designs and brilliant architecture makes people visit the café for a variety of purpose. From huge official dinners to small birthday parties, Mocha has recently been a regular and trusted cafe for customers of Ahmedabad. Suited for couples, singles, friends, families- in short everyone, the café is a brilliant spot for even a variety of coffee lovers. The speciality of the cafe also lies in the fact that it offers the best quality of both vegetarian and non-vegetarian food. Its yummy mac and cheese pasta and a delicious sharing platter that will literally make you lick your fingers!
Address: 6-9, Ground Floor, Devashish Business Park, opposite Krishna Complex, Bodakdev, Ahmedabad, Gujarat 380054
---
4)Little French House, Navrangpura
As the name suggests, Little French House cafe is the best match for French food lovers in Ahmedabad who want to explore newer and newer dishes! Its superb interiors and mouthwatering cuisines, you will always find the café overflowing with customers' every day. This café is literally a small French house built at the center of Ahmedabad offering exclusive French dishes which you might have not even heard of. Specialty of this café lies in the fact that it serves French cuisines with a little bit of Indian touch that perfectly suits a Ahmedabadi customer who wants both taste and variety at the same time. Don't forget to try Macaroons, Croissants Farmer's tear and Share bread and Savory Spinach and Cheese Creeps.
Address: Little French House, opposite Nidhi Hospital, near stadium Circle, Navrangpura, Ahmedabad, Gujarat 380009
---
5)Tiger Bay, Thaltej
Tiger Bay is a huge resort style open café located in Ahmedabad which is famous for its crazy interiors. With amusing paintings and diverse structures built all around the café, it becomes extremely exciting when you visit the place. It is so innovative in its design and ambience, that people often forget valuing its appealing dishes and cuisines too! Tiger bay is definitely a must try cafe which is totally theme based and thrilling to visit. Even the floors of the café changes its levels based on every table.
Address: PRL Colony, Thaltej, Ahmedabad, Gujarat 380054
---
6)I love Sandwich House, S.G. Highway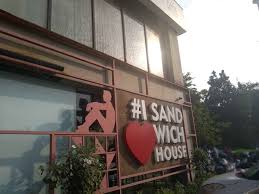 As the name suggests, the cafe I love Sandwich House is a perfect epitome of a specific cuisine based food outlet. With a variety of sandwiches that it serves the largest variety of sandwiches in Ahmedabad. Being a café that serves both vegetarian and non-vegetarian food makes it a huge attraction for non-veg lovers since Ahmedabad is a city majorly based on Vegetarian diet followers. The café's sophisticated designing and quick services have increased its popularity in Ahmedabad which maintains a huge customer base. Although the prices on the menu might seem a bit high, it really matches the taste which the café offers in return. You must not leave the café before trying Peach and Goat cheese Tartine and mixed herb Bread Bowl!
Address: Shaival Complex, Opp Rajpath Club, S.G Highway, Ahmedabad, Gujarat 380015
---
7)Unlocked Cafe, Navrangpura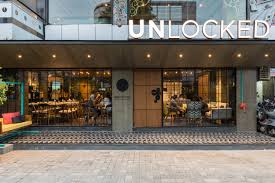 One of the most unique Cafes which Ahmedabad can witness is the Unlocked Cafe. You ask why? This is because the café not only serves the best food or has the most vibrant interior but it also allows the customers to literally play a variety of games with fellows!! Just imagine spending quality time with your loved ones at a place that offers both delicious food and a variety of board games to play at the same time! It leaves no choice for any Ahmedabad visitor to visit the café place some amazing games and grab a snack at the same time. The three in one cafe is a must-try cafe that one should visit!
Address: Chimanlal Girdharlal Rd, near Girish Cold Drinks, Vasant Vihar, Navrangpura, Ahmedabad, Gujarat 380009
---
8)Caffix –The Tech Cafe, Vastrapur
---
As the name suggests, Caffix –the Tech Cafe is another amazing cafe in Ahmedabad which offers twin services by both offering food and repairing, or rather fixing your IPhone at the same time. Yes you read it right, caffix is really a cafe which provides the service of fixing customer's phones at the same time they grab some food. Apart from this wonderful concept the cafe also has a very unique sitting arrangement wherein people can climb up the 2nd level of table, beautifully wrapped with a circular design and dine in. Yet another innovative cafe, definitely deserves a visit if you are in Ahmedabad.
Address: 36-37 Advait Mall, Sandesh Press Rd, Vastrapur, Ahmedabad, Gujarat 380054
---
9)How Does It Matter, Sindhu Bhavan
With the most creative name in the whole Ahmedabad, the cafe – How Does It Matter is another meeting spot for the younger generation of Ahmedabad. Located adjacent to a playground, How does it matter is a cafe which offers multiple cuisines at the same time. Its small tables are arranged in a lobby and a huge window offers a wide view of a beautiful playground. There is absolutely no compromise in the taste of the food that the cafe offers which is why it has been a great attraction for Ahmedabad's people. Dishes like Watermelon Feta Mint Salad, Sausage and Smoked Cheese Salad are a must try in the cafe with some tasty waffles as the desert.
Address: Sindhubhavan Road, Near Racquket Academy, PRL Colony, Thaltej, Ahmedabad, Gujarat 380058
---
---
10)Java +, Ramdevnagar Road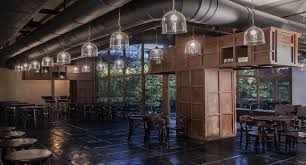 Java plus is another unique cafe you will witness in Ahmedabad with a very new concept. Sponsored by Marriott hotels in Ahmedabad, the cafe runs 24X7 and offers some really rich flavors of coffee. What is worth noticing about the cafe is its extremely sophisticated and elegant ambience. You just put a step inside the cafe and the amount of royalty and stature that hits your personality is extremely mesmerizing. With rich essence in every cuisine it offers, Java + is totally the pride of Ahmedabad.
Address: Satellite Road, Courtyard Marriott, Ramdev Nagar · In the Courtyard Ahmedabad
---
11)Cafe Coffee Day, Ashram Road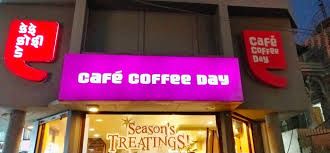 Cafe Coffee Day, as everyone knows, is the most basic and authentic cafe that Ahmedabad has. It is the only one to follow the actual concept of having a place full of peace and comfort for people to come and work for a while along with a cup of coffee. With its extremely basic but authentic snacks, café coffee day is the best place to relax and work with pleasant mindset. Ahmedabad actually has a lot of branches for the restaurant which makes it easily accessible for the customer. Apart from coffee, doughnuts of cafe coffee day are a must try.
Address: Azad Building, Ashram Rd, opp. Hotel Starottel, Shanti Nagar, Sardar Colony, Ahmedabad, Gujarat 380013
---
12)Huber and Holly, Pakwan Cross Road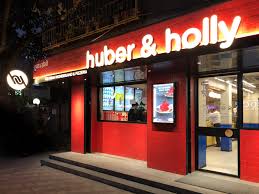 Known for its deserts, Huber and Holly is the yummiest cafe that Ahmedabad has with a huge variety of food items. The place is best known for it is pocket-friendly items, cosy ambience and amazing customer service. With a spacious dining area, the cafe has a very trendy and catchy atmosphere which makes it more appealing for the younger generation. Special dishes of the café include Bbq Paneer Pizza and Hazelnut Praline.
Address: 7 B, pakwan cross road, below pakwan restaurant, Bodakdev, Ahmedabad, Gujarat 380053
---
13)Ristretto, Vijay Crossroad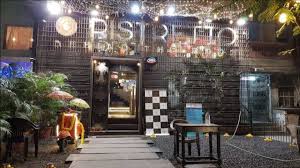 One of the most popular cafes in Ahmedabad, Ristretto is another exciting place to visit with your better halves on weekends. The café is so popular that you might not even get an entry on weekends if the tables aren't pre-booked. The pleasant ambience of the restaurant is maintained by live music playing while the customer enjoy having their food. With a number of cuisines like Italian, North Indian, pizzas etc, the place will never disappoint you in terms of taste or quality. Do not forget to try Ristretto (as the name suggests), Marinara Pizza and Butter Chilly Garlic Momos, before you leave the cafe.
Address: A-1 Maharaja Palace Vijay Cross Road Opp. Gujarat University Plaza Maharaja Palace Ahmedabad Gujarat 380009 IN, Vijay Cross Rd, Ahmedabad, Gujarat
---
14)SandwichworkZ , IIM Road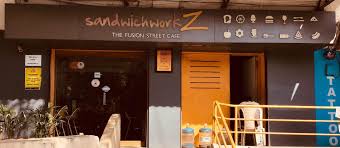 Another sandwich specialist cafe of Ahmedabad, SandwichworkZ offers some of the most unique varieties of sandwiches one could ever have. Famous for its light snacks, the café also provides the option of reading comics while you grab some food. With reasonable costs and tasty servings, SandwichworkZ appeals to a variety of customers who just want to have something casually.
Address: IIM Road Madhav Complex, Basement, Dr Vikram Sarabhai Marg, University Area, Ahmedabad, Gujarat 380015
---
15)The Dark Roast, Prahladnagar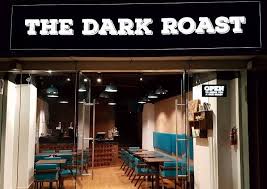 Another gaming cafe of Ahmedabad, The Dark Roast is an amazing place to freshen up your mind and spend quality time with your loved ones. Readers, Food lovers, Gamers everyone is invited to this place to have a pleasant experience. Predominantly a coffee place, some of the brilliant recommendations for the café includes Cafe Bombon, Mint Hot Chocolate and Rich Choco Shake! There is absolutely no chance that the café will leave you any kind of disappointed and will rather create an everlasting impact on your mind.
Address: P' Mondeal Square, Sarkhej – Gandhinagar Hwy, beside Nexa showroom, Prahlad Nagar, Ahmedabad, Gujarat 380015
---
16)Zen Cafe, Navrangpura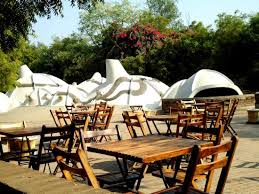 Best in terms of ambience, Zen Cafe flatters your eyes as and when you enter it. It is an open cafe with an extremely soothing atmosphere maintained by sweet melodies of evening live music. It's a perfect cafe to chill and relax after a hectic schedule. Its continental cuisines are a must-try too. Supreme in terms of elegance, class and sophistication, Zen cafe is the most comfortable cafe you will find in Ahmedabad. Some important recommendations for the cafe include Zen Cappuccino and Multigrain Panini with stuffed humus.
Address: University Rd, Navrangpura, Ahmedabad, Gujarat 380009
---
17)Turquoise Villa, Panjrapole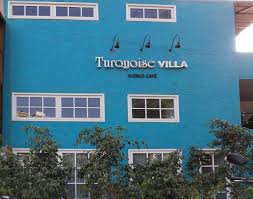 Located near IIM Ahmedabad, Turquoise Villa cafe is the point of attraction for all the college students and teenagers residing nearby. Its capacious architecture and modern ambience make it the best cafe in the area. There is absolutely no doubt in the quality of taste that it maintains and its speciality lies in its great customer service. Since it offers both vegetarian and non-vegetarian food, it has become the best spot for pan India students who study nearby. Some of the most popular dishes of the café include Peri Peri Chicken and Antipasti with parmesan pizza. The cafe also offers Indian cuisines apart from some fresh continental dishes.
Address: Ground Floor, Shanay -1, Dr Vikram Sarabhai Marg, Ahmedabad, Gujarat 380009
---
18)Fresh Roast, Paldi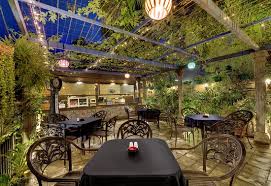 Part of Mani Mansion, a heritage hotel, Fresh Roast is a royal cafe located in the centre of Ahmedabad. Popular for its tasty Mexican cuisine, the cafe offers every basic cafe snack that a customer expects from a typical food outlet. It even offers Indian thalis and some yummy Chinese cuisine. The outdoor coffee shop in the cafe is so mesmerizing that you may want to stay there longer and longer. Its visually pleasing design and aesthetic interiors will literally blow your mind. The café is known for some of its most popular dishes which are Ginger Ice Cream, Mexican Rice and Yummy Thin Crust Pizzas.
Address: Behind Mehdi Nawaz Jung Hall, Shantikunj Society, Paldi, Ahmedabad, Gujarat 380006
---
19)Cafe de Italiano, Bodakdev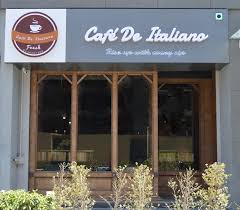 Cafe de Italiano, as the name suggests, is one of the most popular typical Italian cafes in Ahmedabad. It offers such a vast variety of Italian cuisine that will make you go wonders! A comfortable ambience and basic interiors make it a nice place for small get-togethers and weekend plans. And Cafe de Italiano also promises good taste if you are a diehard Italian food lover. Some of the recommendations for the café's food include Risotto, Farmhouse Pizza and Alfredo Pasta.
Address: Arista Hub, 3, Sindhu Bhavan Marg, PRL Colony, Bodakdev, Ahmedabad, Gujarat 380054
---
20)Shambu's Coffee Bar, Ghatlodiya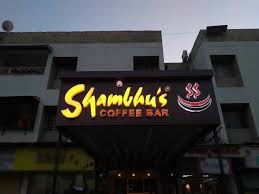 The most popular hanging out spot for Ahmedabad's youths is Shambu's Coffee Bar. You can find its outlets in most of the areas of Ahmedabad and the food it offers is the best taste. Stalls of Shambu's coffee bar are very common on the highway and people of Ahmedabad have a craze for it. From middle aged couples to teenage youngster, it is a cafe that remains open till late for every section of the customers. Shambu's coffee bar is a hype for Amdavadis and a regular meeting spot for the locals. Some of its most popular dishes include Shambu's special Club Sandwich, Hot Coffee and Cheese Chilly Toast.
Address: Ground Floor 11-12, Styamev, Opp Kargil Petrol Pump, S.g.Highway, Ghatlodiya, Ahmedabad, Gujarat 380061
---
21)Yuvi Cafe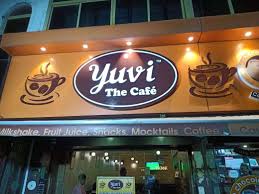 Yuvi Cafe is another most common cafe you will find at various places in Ahmedabad. Its outlets are small and trendy with a basic fast-food menu you would like to grab while passing by some busy roads or after a hectic workday. It mostly offers reasonable snacks which are easy to eat and prepare. Some recommendations for the cafes include hotdogs, garlic bread and espresso.
Address: 23, Sarkhej – Gandhinagar Hwy, Patel Society, Bhaikakanagar, Thaltej, Ahmedabad, Gujarat 380059
---
22)Theka, Thaltej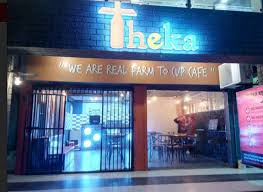 With the weirdest name in the whole Ahmedabad, Theka is another craze for Ahmedabad's population. Its finger-licking food and variety of cuisines excite your taste buds whenever you hear about Theka Cafe in Ahmedabad. With amazing combos and a mouthwatering menu, Theka is a must-visit for anyone who happens to be in Ahmedabad. Its trendy interiors and comfortable dining make it the best place for not only youngsters but even family get-togethers or official dinners. The cafe has multiple outlets located all over the city. You must not forget to try Schezwan Maggie and Besharam Coffee before you leave the cafe.
Address: Patel Society, Jai Ambe Nagar, Thaltej, Ahmedabad, Gujarat 380054
---
Whether is your friend's birthday party, your colleague's farewell dinner, or your general craving for attending some exclusively trendy places, Ahmedabad has cafes offering all these facilities at the same time. Normal Punjabi or Chinese food in Ahmedabad will never give you the kind of satisfaction that certain cafes will be able to give you within seconds. So put on your clothes and be ready to be a true Amdavadi having Nasto at any of the listed cafes! 😉
---
---
Related posts