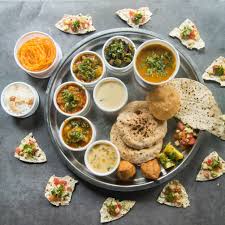 Step your first foot in Ahmedabad and people will tell you – "Jo Baka, Gujarati thali to khavanij!" Now there lies a very basic logic about why people in Ahmedabad ask you to have a complete Gujarati Thali instead of some noted Gujarati Fast food. This is because right from the first meal of a person's day till the last refreshment he gets before sleep, Gujarati food has a number of dishes to offer that just cannot be consumed at one go. How are you going to have Dhokla, Khandvi, Patra, Khichdi, Vagareli Rotli, Undiu Puri all at the same time? This is the reason why a Gujarati Thali has all figured it out.
Its speciality lies in the fact that it offers such a vast variety of dishes in such small but apt quantity, that it fills your tummy just up to the level it deserves to be filled. So what are you waiting for? Have a look at this stupendous list of some of the best Gujarati Thali offering restaurants in Ahmedabad along with price and make your appetite happier!
---
16 Best Authentic Gujarati Thali in Ahmedabad everyone must-try:
---
1)Atithi, BODAKDEV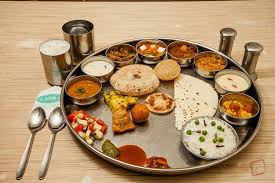 Located at a prime place in the city, Atithi is the best Gujarati Thali offering place in Ahmedabad you will ever witness. Its supremacy in maintaining rich quality and flavour will make you go wonders. The number of dishes it offers in one Gujarati thali is so large, that half of your appetite will be satisfied even if you each every dish just once! Costing Rs 300 for Adult and Rs 170 for children, the restaurant even provides the facility of food parcel and packaging. From young children to old parents, there is absolutely no sector of customers that will deny having food at Atithi.
Apart from its huge dining area and unlimited Gujarati Thali serving concept, what adds to the speciality of the Gujarati restaurant is the amusing communication style of the waiters. Moreover, it even has a banquet which is a great place for having a wedding dinner and celebrations too. Above all, Atithi is definitely worth giving a try for unlimited Gujarati thali whenever you visit Ahmedabad.
Address: Mohini, opposite Shraddha Petrol Pump, Ahmedabad, Gujarat 380054
---
2)Agashiye-The House of MG, Lal Darwaja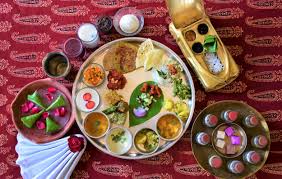 Part of an old Gujarati Mansion, Agashiye– Seth Mangaldasni Haveli, literally translates to the terrace of the house of MG. It is a huge heritage restaurant located at the heart of Ahmedabad. With antique interiors and a brilliant ambience, the restaurant has both indoor and outdoor sitting. Once you enter the premises, its rich vibes and royal serving style will hit your soul and give the exact experience of having food like a Seth. Moreover, it is even situated in front of one of the most beautiful mosques of Ahmedabad- Siddi Sayyed ni Jaari, which further enhances your eating experience.
Although the prices of the restaurant are a bit too high costing around Rs1500/- for two, it definitely offers much better values in return. Above all the Gujarati Thali of Agashiye is the tastiest and the richest Ahmedabad. Roti, 3 types of sabzi, bhakri, dal, kadhi, amras, salad, Agashiye offers over twenty different types of dishes in a single Gujarati thali. Its Mung Dal halwa as a dessert requires a trial either by hook or crook.
Address: Bhadra Rd, Opp. Sidi, Old City, Saiyad Jali, Lal Darwaja, Ahmedabad, Gujarat 380001
---
3)Gordhan Thal, S.G. Highway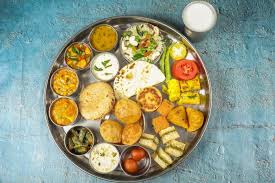 Gordhan Thal is another fabulous place to have Gujarati Thali in Ahmedabad. The most eye-catching part of the restaurant lies straight in the entrance with huge wooden carved doors and an extremely sophisticated idol of Lord Krishna. With a bit of Rajasthani influence, the restaurant offers one of the best fusion of regional Gujarati food with some of the tasty north Indian dishes in its gigantic Gujarati Thali. Gordhan Thal is so famous for its Gujarati thali that it remains crowded at whichever time you visit it. The restaurant gives unlimited thali which makes deserve at least one try if you are in Ahmedabad. Also since it is a Gujarati outlet, it maintains its authenticity by keeping the dishes adequately sweet and tasty. Its kadhi khichdi will literally make you lick your finger and ask more and more of it.
Address: Ground Floor, Sapath Complex, Opp. Rajpath Club, Sarkhej – Gandhinagar Hwy, Bodakdev, Ahmedabad, Gujarat 380052
---
4)Vishalla, Juhapura
Vishalla is a destination themed restaurant which gives an extremely distinct experience which you would have ever thought of. It is traditionally designed to give a typical village like experience with a number of concepts resonating with typical Gujarati village life. Located at the outskirts of Ahmedabad, Vishalla serves the Gujarati thali in the most accurate way. Starting from welcome drinks, farsan, salad, etc till you have its moong dal halwa with dal bati and numerous sabzis in between the Gujarati Thali, Vishalla has designed everything perfectly at just Rs 1500 for two people approx. Moreover, the utensils, table and sitting style of the restaurant is designed traditionally to give an everlasting experience. Apart from having food which is heavy as hell, you can learn pottery, watch people doing traditional dances, puppet shows, visit utensil museums or even get your horoscopes checked!
Address: Vasna Rd, Opp. Tol Naka, Rehnuma Society, Sanklit Nagar, Juhapura, Ahmedabad, Gujarat 380055
5)Rajwadu, Vejalpur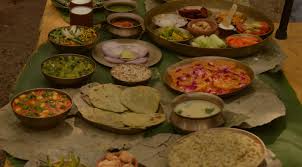 Half-brother of Vishalla, Rajwadu has adopted a similar concept of serving Gujarati Thali in a village-style ambience. Another most famous food outlet of Ahmedabad, Rajwadu serves such an amazing fusion of Kathiawadi and Rajasthani Thali that will gasp the awe out of you! With stone walls, water bodies, plenty of plants and a rural atmosphere Rajwadu is unique in its own way. Apart from being a highly sophisticated themed restaurant, it is also a great place for hosting weddings and a number of events too. Lantern-lit pathways and lush greenery unfold in front of your eyes as you enter this place with a traditional welcome. Costing Rs 1300 for two, Rajwadu is not just another Gujarati restaurant but rather a whole experience that should not be missed at any cost.
Address: Nr. Jivraj Tolnaka, Behind Ambaji Temple, Malav Talav, Ahmedabad, Gujarat
---
6)Iscon Thaal, S.G. Highway
Awarded for the most Authentic Gujarati Thali by none other than Sanjeev Kapoor himself, Iscon Thaal is the one to offer a real taste of Gujarati food in Ahmedabad. Its subtle preparation style and originality of taste are what makes it better than all other Gujarati Thalis of Ahmedabad. The thali will offer you vegetables both in dry and curry forms, sweet dal, kadhi, bhakhri, chapati and other bread varieties as well as khichdi and rice along with other accomplishments like pickles, sweets, buttermilk and papad and what not. Moreover, its reasonable cost of serving just Rs. 300 per person makes it really pocket friendly. There is absolutely no doubt about the taste and quality of food that Iscon Thaal offers. So if you are a Gujarati food enthusiast and also want to save some pennies, do visit Iscon Thaal for real Gujarati Thali in Ahmedabad.
Address: SF-1, Rudra Applis, Above Aishwarya Show Room, Iscon Circle S.G. Road, Satellite, Bodakdev, Ahmedabad, Gujarat 380059
---
7)Annkut, Prahaladnagar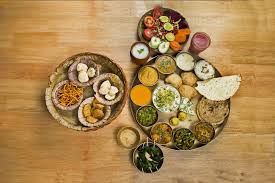 Craving for some home-cooked Gujarati food? Annkut is the absolute right place to offer that motherly Gujarati Thali in Ahmedabad. With its amazing interior and professional culinary artists, this place offers mouthwatering Gujarati thali. With the attached banquet, the place is the most popular place for hosting events like wedding, birthday parties or even family get-togethers in Ahmedabad. Famous for its comfortable seating, themed decor, hygiene, great ambience and amazing presentation, Annkut won't cost you more than Rs 750 for two people. So what are you waiting for, visit Annakut and enjoy your Gujarati meal ASAP!
Address: Sanidhya A, Ground Floor, 100 Feet Rd, near Platinum Hall, Anand Nagar, Prahlad Nagar, Ahmedabad, Gujarat 380015
---
8)Ame Gujarati, Ellisbridge
Ame Gujarati which literally translates to – 'We're Gujarati', is another famous spot that offers amazing Gujarati Thali. Located at the food hub of the city, Ame Gujarati is a fancy restaurant that prepares yummy Gujarati food and provides amazing customer service. What catches the eyes of the customer is its amazing hut shaped sitting arrangement in an open spacious area. With a great ambience and reasonable prices, Ame Gujarati is a decent place for family dinners and get-togethers. It offers a variety of Gujarati Thalis at different prices so that you can choose your preference accordingly. Good quality food and amazing experience are what the restaurant promises and there is no doubt in it about its loyalty.
Address: Ashram Road, Vishalpur, Ellisbridge, Ahmedabad, Gujarat 380009
---
9)Sasuji, C.G. Road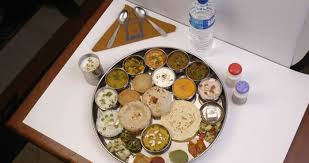 As interesting as the name suggests, Sasuji is a wonderful spot to have delicious Gujarati Thali in Ahmedabad. Created with a motive to give the customer a home-like experience, Sasuji serves authentic Gujarati food with original flavour and decent taste. Its comfortable and spacious ambience and variety of dishes in 1 thali ads to the benefits of the customer. Best suited for the old age customer who isn't able to digest heavy spicy food, Sasuji is really a must-try Gujarati restaurant. Its cheap rates with just Rs 290 per person, makes it more appealing for the customers looking for pocket-friendly restaurants.
Address: Lal Bunglow, Singaporean Avenue, Opp, Chimanlal Girdharlal Rd, Ahmedabad, Gujarat 380009
---
10)Pakwan Dinning Hall, Pakwan crossroad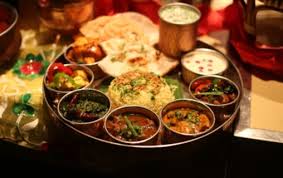 The oldest Gujarati Thali serving restaurant, Pakwan is one of the first food outlets to bring up the Gujarati thali concept in Ahmedabad. It became so famous amongst the local Amdavadi population that even a whole crossroad was named after it. Offering a variety of chutneys and papads with its Gujarati thalis, Pakwan's Thali is a must-try. The restaurant has earned the trust of Amdavadi folks and has continued to serve exclusive Gujarati food items to them. Its reasonable costs with Rs. 275 per person, also increases its reach to every section of the Gujarati food-loving customer base.
---
---
11)Gopi Dining Hall, Ellisbridge
Simple and subtle, the Gopi Dining Hall is a casual dining space for Gujarati food lovers willing to have nice Gujarati thali. With a basic menu and comfortable ambience, the Gopi Dining Hall offers everything perfect. People who have been visiting the place for years have got so accustomed to it that they sometimes don't even want to try new things. They serve 'Puri', small thin soft 'Rotis With Ghee', thick 'Bajra Rotlas' and 'Bhakri' altogether. Its khichdi with tasty ghee and garlic chutney in its kathiawadi section definitely deserves a trial. Costing approx. Rs.550 for two people, Gopi dining hall is a great place to have food.
Address: Avadhesh Huse, Ground Floor, Off, Ashram Rd, Pritam Nagar, Ellisbridge, Ahmedabad, Gujarat 380006
---
12)GwalBhog, Chandkheda
Offering both Rajasthani and Gujarati thali, Gwalbhog is a bit newer but an appealing Gujarati restaurant in Ahmedabad. It's a venture of Gwalia sweets which is also the most famous sweet and snack outlet in Ahmedabad. With an eye-opening ambience and vastly spread area, Gwalbhog is another best place to have Gujarati thali with the purest and yummiest taste. Above all, it offers its thali comprises of more than 22 varieties of dishes including snacks, 4 types of sabzis, 3 types of bread and sweets and whatnot. Costing just Rs. 700 for two, the restaurants promise good taste, hygiene, variety and fabulous customer service.
Address: Near, 1st floor, Aamrakunj Avis, Vishad Gandhi Nagar Highway, Tapovan Cir, Nigam Nagar, Chandkheda, Ahmedabad, Gujarat 382424
---
13)Toran Dining Hall, Ellisbridge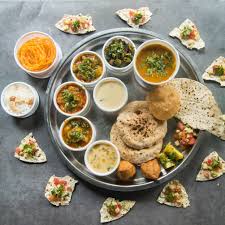 Another amazing dining space for family events and get together. Toran Dining Hall gives you amazing Gujarati Thali in the most traditional form. With huge quantities of farsan (Gujarati snacks) and amazing varieties of Rotis and sabzis, Toran Dining Hall will fill your tummy up to the brim. Moreover, even though every food items comes in small quantity initially, its unlimited offer makes you have them more and more as you proceed. It costs around Rs. 240 person which more than enough for a customer looking for a pocket-friendly restaurant. Its hot fulkas and Srikhand as a dessert will make you lick your fingers so don't forget to try them before you leave.
Address: 109, Ashram Rd, opp. Sales India, Shreyas Colony, Ellisbridge, Ahmedabad, Gujarat 380009
---
14)Swati, Law garden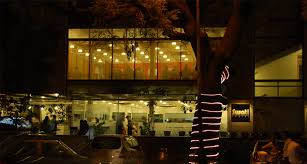 Even if visit each and every restaurant in Ahmedabad, there will be no other place like Swati. It serves the most light and least oily Gujarati food you world ever have wondered. With a very airy and roomy ambience, Swati is just brilliant in its service. Although it does not offer a complete Gujarati thali, all its items on the menu are extremely unique and special. Try its chole methi dhokla and Bedai roti and you'll never forget Swati. The food here is so decent that even a patient can enjoy Gujju snacks in the most hygienic and presentable manner.
Address: 13 Gandhibag society, Law Garden, Opp Nirman Bhavan, Panchavati Rd, Ahmedabad, Gujarat 380006
---
15)Shree Mahendra Thal, Thaltej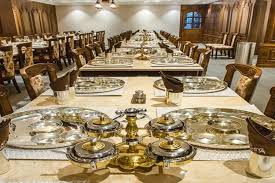 Last but not the least, Mahendra Thal is yet another rhinestone amongst the diamonds of Gujarati restaurants in Ahmedabad. With its huge Gujarati thali and varied food items on the menu, you will keep ordering and re-ordering the dishes because even though your tummy gets full your heart will ask for more and more of it. All the items having perfect taste and also there is a various option available in farsan and sweets like dhokla, panner chilla, Paneer patties etc. Moreover, its lustrous metallic utensils will give you a royal feeling. Above all, having rich Gujarati thali at Rs. 600 for two people approx. is a must-try!
Address: above Yanki sizzlers, Bhaikakanagar, Thaltej, Ahmedabad, Gujarat 380059
---
16)Marutinandan, S.G. Highway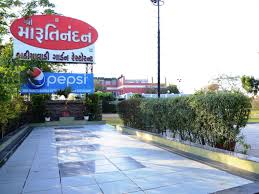 One of the most famous Kathiawadi food franchise in Ahmedabad, Marutinandan offers amazing Gujarati thali! Its kathiawadi fix lunch serves a vast variety of mouthwatering food items. For instance, Gujarati dishes like Bajra na Rotla, Sev tameta nu shak and kadhi khichdi just cannot be ignored if you are having any Gujarati thali. With its outlets spread across the city, Shree Marutinandan can be easily accessed from literally an area you live in Ahmedabad. Its Ambience is also great with spacious are and comfortable seating space!
Address: Trinity Complex, Shop No. 1, 2, Ground Floor, Zydus Hospital Rd, Ahmedabad, Gujarat 380059
---
All these restaurants of Ahmedabad will offer all basic Gujarati food items in their Gujarati Thalis which deserve a must try once you enter Gujarat. From farsan and welcome drink in the beginning to different types of rotis and rice to various Indian deserts along with a glass of buttermilk, everything is a must to complete a Gujarati thali! But just in case you don't miss any of the most prominent dishes in a Gujarati thali hereby a brief list of them, Bon appetite! 😉
---
List of Gujarati food items that you see in every Gujarati Thali:
Gujarati Daal (daal which is sweet and sour with peanuts and dry dates)
Gujarati Kadhi ( chickpea and curd curry, again it has a hint of sweetness)
Bateka nu Rasse walu Shaak (potato curry with gravy, again slightly sweet )
Tindoda nu Shaak (ivy gourds cooked simply with everyday spices, tempered with mustard)
Mag (whole lentils, slightly sweet, with thick gravy)
Raitu ( whipped curd)
Chutney ( chutney of various flavours)
Kachumber ( diced onions, tomatoes and cucumber mixed with lemon and sugar, a simple salad)
Edada / Safed Dhokla ( steamed lentil cakes)
Methi Na Gota (fritters with fenugreek with a hint of sweetness )
Shrikhand/ Aamras ( a sweet made from hung curd, a favourite among Gujaratis)
Rotli/Bhakri/Puri ( thin small wheat flatbreads)
Bhaat/ khichdi ( boiled steamed rice)
Papad
Attadu(pickle)
Mohanthal ( Moong daal halwa)
---
Related posts