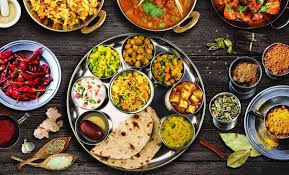 Amritsar– the food capital of Punjab, a place where no one ever sleeps with a hungry stomach. It has an abundance of famous dhabas that offer soul greasing food. These Dhabas are the pride of Amritsar that serve desi ghee loaded food at a reasonable price.
---
List of Most Famous Dhabas in Amritsar that serves soul greasing Vegetarian Food:
---
1)KESAR DA DHABA – House of traditional food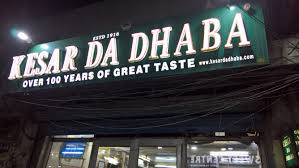 Address-Chowk Passian, Near Telephone Exchange, Amritsar, Punjab 143001.
Your visit to Amritsar would be futile if you didn't visit this world-famous Dhaba.
Kesar Da Dhaba's foundation was laid by Lt. Lala Kesar Mal and his wife Lt. Smt. Parvati in 1916 in Sheikhupura, Pakistan. At that time famous freedom fighter Lala Lajpat Rai was its frequent customer. Distinguished personalities like Jawahar Lal Nehru and Sonia Gandhi used to have parcels of food from this authentic Dhaba. After partition, this Dhaba shifted to Amritsar.
Covered by various media channels such as Zoom TV, NDTV, Star Plus, ETC Punjabi, ZEE TV, BBC News, Travel & Living, Discovery Channel, Sony TV and others for its exotic punjabi food, this dhaba will make your heart flow with joy !
This Dhaba offers vegetarian meals only and has food options ranging from velvety Dal Makhni to heavy thalis to mouthwatering desserts.
This famous Dhaba is just 500 metres away from the famous Golden Temple.
Words might fall short in praising this famous Dhaba and you will rue your entire life if you didn't visit this Dhaba.
---
2)BHARAWAN DA DHABA – Eat not just to feed your body but to feed your soul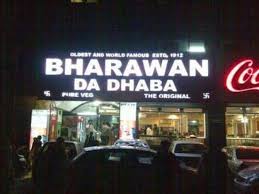 Address: Near Town Hall, Town Hall, Katra Ahluwalia, Amritsar, Punjab 143001
Bharawan Da Dhaba is one such name that strikes a chord in every Amritsari's heart and stomach.
The food here casts such a magic spell on its customers that they are bound to return again and again. It is famous not only in Amritsar but in the entire country.
Subhash Vij (owner) joined his father in 1975 and started operating this Dhaba.
The Dhaba was started by Subhash Vij's grandfather in 1912 in a tent after he came from Sialkot, Pakistan, to settle in the border town.
The Dhaba is only 10 minutes walk from The Golden Temple.
The delectable meals available here will satiate your appetite and make you want to come here again and again. Take away and home delivery services are also available here.
Bharawa da Dhaba Menu:

Click Here
---
3)BROTHER'S DHABA – Bade Bhai ka Brothers Dhaba – No.1 Dhaba in Amritsar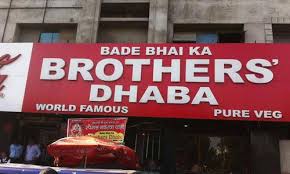 Address: Adjacent to Bhrawan Da Dhaba, Near Town Hall, Katra Ahluwalia.
Brother's Dhaba was started in 2001 by the elder brother of the man who owns Bharawan da Dhaba. Now both the brothers run separate outlets.
It has all the facilities of a quality restaurant. The seating arrangement and interiors are like that of a modern-day restaurant.
The menu includes a mix of typical Punjabi Dhaba dishes, as well as South Indian food and fast food like Chowmein.
This Dhaba has 3 other branches at Hall Bazar, Putli Ghar and Court Road.
This huge eatery has been awarded as No.1 Dhaba of Amritsar by Dainik Jagran for the year 2007-08 in Dhaba and Restaurant category. You can brag it to be the best original Punjabi food joint.
Many famous personalities such as Ranveer Singh have also dined at this Dhaba.
---
4)KANHA SWEETS
Address: Opposite BBK DAV College, Dayanand Nagar, Amritsar, Punjab 143001
Ditch those famous restaurants that burn a hole in your pocket and head straight away to Kanha Sweets that has been serving amazing meals for over more than 50 years.
As the name suggests, this place serves the best sweets that will satiate your taste buds. Famous for it's delectable Chole Poori, tangy longi and Mango Lassi, the food and the sweets available here are made of pure desi ghee.
Many famous personalities like Kapil Sharma, Aruna Irani have visited this place.
This place is pocket friendly too.
---
Read More:Top 5 Places To have Amritsari Kulcha in Amritsar
---
Now let's have a short trip to Famous Non-Vegetarian Dhabas in Amritsar
1)BEERA CHICKEN HOUSE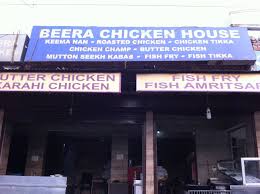 Address: Shop – 100, Majitha Rd, opposite Bhandari hospital, Amritsar, Punjab 143001
Visit to Beera Chicken house is a must if you are coming to Amritsar.
In 1970 it was started as a tiny stall but due to its unparalleled taste and ever-increasing demand, it soon grew and transformed into a major food joint on Majitha Road.
You'll find here the most delectable chicken made with traditional spices at an affordable price. Beera Chicken House offers you a wide variety of chicken which is evident from its menu. A haven for non-vegetarian lovers, only the aroma of the chicken will make your mouth water let alone the dishes.
---
2)MAKHAN FISH AND CHICKEN CORNER – Since 1962
Address: 21A, Near Madaan Hospital Makhan Chowk, Majitha Rd, Amritsar, Punjab 143001
Are you an ardent chicken and fish lover? If yes let's take you to the famous Makhan Fish and Chicken Corner.
Established in 1962 by S. Sucha Singh with the aim to provide "real Punjabi cuisine taste" to the whole world, this Dhaba has left no stone unturned to fulfil its objectives.
It is a family-friendly, multi-cuisine restaurant that serves both vegetarian and non-vegetarian dishes.
Whether it is its exotic chicken or its traditional Amritsari fish, Makhan never fails to live up to its expectations. It also has a bar facility.
Eminent personalities like Yami Gautam, Sonam Bajwa and Shaan have come to this world-famous Dhaba.
So what are you waiting for?
Makhan Fish And Chicken Corner Menu:

Click Here
---
3)PAL DA DHABA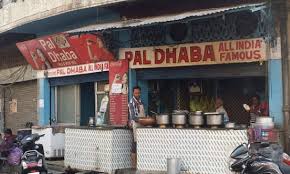 Address: Katra Moti Ram,I/S, Hathi Gate, Katra Ahluwalia, Amritsar, Punjab 143001
Another culinary gem on our list of Amritsar Dhabas is Pal Da Dhaba. It is a paradise of non-vegetarian lovers.
This Dhaba does not have a fancy seating arrangement but the delectable food available here makes up for it.
Pal serves the best Kharode da soup (lamb trotters soup).
It is better to order food and eat in your car.
---
4)SURJIT FOOD PLAZA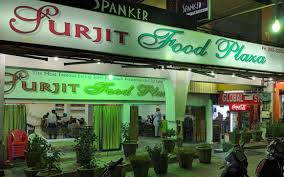 Address: No. 3-4, Ground Floor, Nehru Shopping Complex, Lawrence Road, Joshi Colony, Amritsar, Punjab 143001.
Established in 1976, this Dhaba has been continuing its legacy of serving traditional Punjabi recipes to its customers.
It wouldn't surprise you that owner this dhaba is the cousin of man who runs Makhan Fish and Chicken Corner.
Chicken and fish available here will make you forget other expensive eateries.
So plan a trip to Amritsar and do not forget to visit these world-renowned Dhabas.
---
Related posts